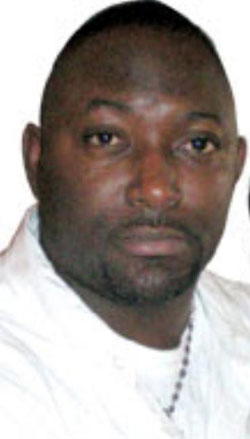 Chikelu Iloenyosi
BY VINCENT UJUMADU
TEARS flowed freely yesterday when the decomposed body of 80 -year old Chief James Iloenyosi, father of ex-Super Eagles player, who played professional football in France and Turkey, Mr. Chikelu Iloenyosi, was discovered by the police at Nneyi village, Umueri in Anambra East local government area of Anambra State.
Pa Iloenyosi, who hailed from Abagana in Njikoka local government area, was kidnapped by gun men in his house three days to his 80th birthday in November last year.
Anambra State Police Commissioner, Mr. Usman Gwary, said yesterday that four suspects have been arrested in connection with the incident, even as he explained that investigation into the matter was continuing.
Anambra CP said: "We are not going to say much now because we have not finished the investigation."
The Octogenarian's family was planning his 80th birthday celebration for 28th November, 2013, before his abduction on 25th November, 2013.
Despite the efforts of  the Anambra State police command to rescue Pa Iloenyosi, there was no trace of him and since then, the family members, who parted with N1.5 million ransom demanded by the kidnappers, said they were praying and hoping that he would one day return home alive.
One of his daughters and a well known politician, Hajia Chinyere Oguguo-Agagbo, her husband, Mr. Okpoka Agagbo and other members of the family were all tears yesterday at the scene of the discovery in the bush.
Two of the suspects (names withheld), who confessed to be part of the gang that kidnapped the man said yesterday that when they collected the money and told the family to bring more, they did not know that he would die in their custody.
According to them, "when the man died, we carried the corpse to the bush and dumped him there."
The police and members of the family said they were able to recognize Pa Iloenyosi because of the cloth and cap he was putting on before he was kidnapped.