By DAPO AKINREFON
Dr Adetunji Dare is a chieftain of the All Progressives Congress , APC, in Osun State. Dr Dare, who is also the Chief Medical Director of Hope Medical Centre in Ila Orangun, Osun state, in this interview, gives a thumb up to the Aregbesola administration for transforming the state. Excerpts:
WHAT is your opinion on the school reclassification policy in Osun State?
I sincerely believe that the vilification of the governor as a result of his decision is unfair. When he came on board, what he met on ground was nothing to write home about- there was no sense of direction. As a matter of fact, the reclassification is to rejuvenate the education sector in the state.
We have a system that does not have a sense of direction and does not have a policy template. Now that we have seen a governor that is focused, I think those criticizing him are doing that out of ignorance.
But don't you think it is contributing to the confusion in the education sector of the state?
As a matter of fact, some of us believe that whether you are a Christian or you are a Muslim, the bottom line is, 'are you getting the right kind of education?' Are you being given what you should get from the government? In any case, good education does not have to be provided by any religion.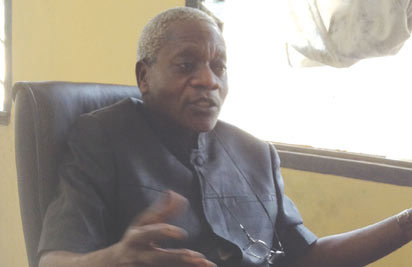 Government policies
People are only crying wolf where there is none. I believe that religion should not be brought into government policies. I quite know that the state governor does not have it in mind to rubbish any religion.
Governor Aregbesola has also received hard knocks over his plans to construct an interdenominational worship centre. What is your opinion on this?
The governor told everybody when he was campaigning that he was going to run an unusual government and most of the things we are witnessing in Osun State are very unusual. They are unusual on a positive note. Most of these criticisms are based on lack of what is going on.
What the government ought to have done to minimize this vilification is to sensitize the people on the advantages that are accruable to this wonderful and commendable innovation.
One thing that we lack in the state is money, but not until the advent of this government, previous governments did not take it upon themselves to generate funds for the state. If you have that interdenominational centre, it will definitely enhance the economy of that area.
Are you saying that it is an avenue to generate funds for the state?
No, but to create employment for people.
By building an interdenominational centre?
Yes. If you go for a crusade, you will not sleep on the ground because there will be satellite villages around there. That is a way of generating employment for people.
Why should the people of Osun state vote for Aregbesola for a second term because the argument by the opposition is that he has performed below expectation?
I can say it without mincing words that since the inception of Osun State, the only regime that can be compared with this one is that of Chief Bisi Akamde in terms of provision of dividends of democracy.
He has performed above board in every facet of the state. The achievements are so overwhelming. Some of us even wonder what the opposition will use to campaign because there is no facet that has not been touched by him.
Do you see INEC conducting a free and fair election in the state?
I think INEC has no choice. Even if INEC does not want to conduct free and fair elections, we are not going to support it.
Is your party not worried over the possible use of federal might during the polls?
I doubt if there is a federal might because the umbrella is already torn. We are not afraid of any federal might because Nigerians are wiser now. I only pray that Jega will not allow  himself to be used in this visionless agenda.
In Osun State, I want to assure you that nothing will scare us. We are going to vote and wait until the votes are counted.