BY  EMMA UNA
CALABAR—THE perennial flooding of the Nigerian Navy Barracks in Calabar, Cross River State, has worsened and is now beyond the capacity of the naval authorities to combat, requiring the assistance of the federal and state governments to control.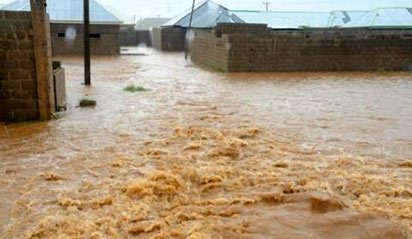 Rear Admiral Obiora Medani, the Flag Officer Commanding Eastern Naval Command, yesterday, who spoke while inspecting units and ships under his command, said several attempts by the Nigerian Navy to control the flooding and erosion in Akim Barracks had defied every effort.
"We have a military and civil authorities'  relationship and we have appealed to the civil authorities to help us because the scope of the erosion menace in that barracks is above our resources and we hope this will be done soon," he said.
Air Commodore Medani said year in year out, the Nigerian Navy has poured in its meagre resources to combat the erosion menace, yet the flooding at the Barracks had increased, making it impossible to access large parts of the barracks whenever it rains.
He said: "The rains will soon set in and we hope something will be done soon to address the situation. On our part, we are doing the much we can to stem the tide of flooding in the barracks."
On the state of facilities at the Eastern Naval Command, Medani said he was impressed with the state of preparedness of the command to combat any form of militancy and piracy in the Calabar –Equatorial Guinea – Gabon waterways, assuring those travelling on that route are safe.
He said in a few months time, the 100-bed Nigerian Navy Reference Hospital in Calabar will be commissioned, going by the fast pace of work at the place.
"The Nigerian Navy does not condone the abandonment of projects and I can assure you that being a point of reference, efforts are being made to bring life to the place and that will be very soon," he added.