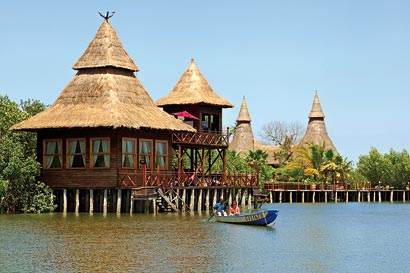 LAGOS—The Gambia, a leading popular tourist destination in Africa, has thrown its doors open to discerning Nigerian visitors seeking an exotic vacation, a family holiday, or savvy corporate organizations requiring high quality facilities for corporate meetings.
"We have concluded plans to implement a comprehensive multifaceted campaign in Nigeria to launch The Gambia as a year round destination of choice to all categories of Nigerians", said  Adama Njie, Marketing Director, Gambia Tourism Board (GTB).
Mr. Njie revealed that, through accredited agents and operators, all classes of Nigerian visitors can now have access to comprehensive round-the-year travel and tour packages to enjoy the world renowned hospitality, the spontaneous smile and the warmth of the people of The Gambia.
"For years, The Gambia has been the region's most formidable destination for people from all over the world. We believe the country offers special attractions which are yet to be discovered by Nigerians.
Also, according to Mr. Benjamin A. Roberts, the Director General of the GTBoard, ''Nigerians are very hard working and busy people, with a great need for leisure and rest.
"Our unique geographical position at the mouth of the Atlantic Ocean, enables The Gambia to remain an attractive tourism destination with natural waterways that extend the entire length of the country, lagoons, islands and islets for water sporting, fishing and inland cruise activities".
''The Gambia has an astounding ecosystem which has placed the brand in the eco-tourism forefront in Africa, with a blend of nature, communities; fauna and flora interacting in a responsible and suitable manner".
''Our ecosystem is sanctuary for over 50 species of birds which crisscross the country through migration activities, making the destination a bird-watching
haven. The Smiling Coast of Africa is home to world renowned and African inspired cultural patrimony, some of which are now listed by UNESCO as world heritage sites," Benjamin further said.
For Nigerians who will like a blend of business and pleasure, The Gambia also offers virgin investment opportunities waiting to be explored, particularly in the areas of eco-tourism, agriculture, manufacturing and services, with the added advantage of market access to over 300 million consumers in West Africa, given the Gambia's gateway advantage.