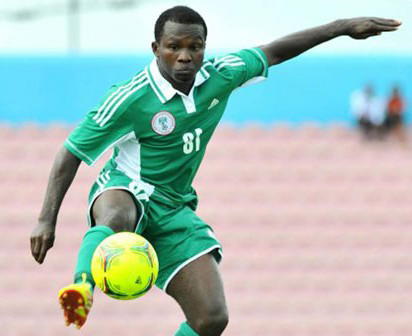 *As Rangers claim ignorance
The Most Valuable Player at the 2014 CHAN and 24-year-old Nigeria international, Ejike Uzoenyi is excited he has been to complete a move to South African Premier League club, Mamelodi Sundowns on a four-year contract.
The Nigeria international had earlier rejected a move to team up with Romanian club FC Vaslui that offered him a deal worth 600,000 Euro.
This is however, against the reaction of his Nigerian club, Rangers of Enugu which spoke through its media officer, Forster Chime in Enugu, insisting that it is not aware the player has joined Sundowns.
"We are just hearing of this purported move in the media. No team has approached us for the services of Ejike Uzoenyi," the Rangers media officer told MTNFootball.com.
"Maybe what we have now is the antics of an agent who wants to finish with the player before coming to his club.
"We are waiting as Ejike remains our player and we have just negotiated a new contract with him and other players for the coming season."
Speaking about the deal, Uzoenyi said he was delighted to have joined the South African outfit describing the Brazilians as a "great deal".
"Joining a club like Sundowns is a great deal for me because their ambitions to conquer Africa are in line with my career objectives as a player," he told the club's official website.
"The other thing that made me join the club is that Coach Pitso had a chat with me before I joined and we had a discussion about his plans for me and I feel that I'm ready for the challenge," he concluded.
Uzoenyi is expected to join his new teammates in June.