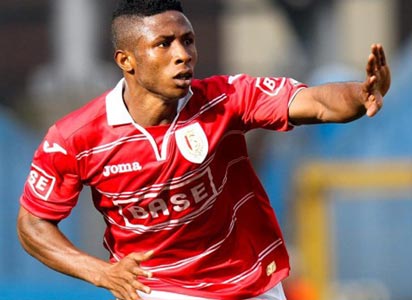 Imoh Ezekiel
Imoh Ezekiel, who received his first Nigeria call-up for the Mexico game, is still wanted by Belgian Federation. Belgian press reported that the forward could obtain the country's passport through a speedy process.
The Belgian FA have been trying hard to make Ezekiel – who has scored 26 league goals for Standard Liege since joining the club in February 2012 – available for Red Devils national team. The first application for the passport has been already submitted to the Belgian parliament, but it met a refusal as the player didn't meet the basic requirement of having the residence permit, which is granted to people living in Belgium for at least three years. However, this period can be reduced in emergency situations and it could be the case with the 20-year-old striker.
Local newspaper Het Laatste Nieuws report that, after Stephen Keshi's move for Ezekiel, Belgian FA have requested for a speedy process of naturalization of the player and that Belgian parliament was expected to review the situation yesterday. Even if he plays against Mexico, Ezekiel would still be available for Belgium under new FIFA rules as the next month's match in Atlanta will be only a friendly. The player himself said in the past he would prefer to play for Nigeria, although it's unclear why it took so long from Keshi to call-up the forward.