By Franklin Alli
The Organised Private Sector, OPS, says Nigeria can halt smuggling  into the country within the next six months if the Customs Services and other law enforcement agents policing the nation's borders (airports, seaports and land borders) embark on the destruction of confiscated banned items which importers and shipping companies are bringing into the country.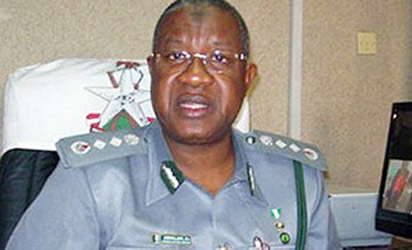 Smuggling is importing and exporting products illegally. The OPS strongly believes if government can adopt constant destruction over the next six months, stricter enforcement and harsh penalties of this nature will wipe smuggling activities in its totality or reduce it by 70 per cent.
Speaking through its Director General during a seminar on' The Menace of Smuggling in Nigeria' organised by the Commerce and Industry Correspondents Association of Nigeria, CICAN, in Lagos,  OPS said, beyond chasing smugglers here and there and seizing contraband goods, the Customs and other law enforcement agents should go further by burning seized items again and again.
"By the time you confiscate and destroy goods worth N500 million, the importer and the shipping company will be frustrated and they won't' like to continue in the business.
"Fighting smuggling requires seizure and burning of the items. When you destroy the products, you have destroyed the investment; if you lost N500 million six times nobody will tell you before you opt out of the business, and others will be deterred to go into it," said Mr. Rasheed Adegbenro, the Acting Director General of  MAN.
John Isemede of NACCIMA noted that another aspect of smuggling is faking of import document and under-invoicing.
"If you are bringing in 20 containers and your invoice declared five containers, it is smuggling; if you are bringing in chemical A and declared it chemical B, it is smuggling," he said.
In his presentation, titled: 'Impacts of Smuggling on the economy', Muda Yusuf of Lagos Chamber of Commerce and Industry, cited the closure of BEREC battery, Dunlop and Michelin tyre, Afprint and other textile companies and revenue loss to government due to evasions of import duty, as amongst the economic impacts of smuggling on the Nigerian economy.
He said that the key drivers of smuggling are trade policy that is not sustainable; high import tariff and levy; porosity of the nation's borders, tariff differential between Nigeria and neighbouring countries in ECOWAS; weak infrastructure which increases cost of production, including foreign exchange policy.
Dr. Joseph Odumodu, Director General of Standards Organisation of Nigeria, SON, asserted that, "beyond the loss in value of transaction, a smuggling–free is possible if and only if people who are bringing in products do the right things, there won't be smuggling.
I support the OPS calls for heavy sanction of importers and their shipping firms or agents.  Smuggling is affecting our mandates at SON. I have said at several fora that doing the wrong thing affects the whole economy."
Mr. Sola Dosumu, Head of Regulatory Affairs, BAT West Africa, painted a bigger picture of the economic impacts of smuggling on manufacturing industries, governments and distributors when he said tobacco sector across the globe loses a total of £17 billion annually to smuggling.
He gave the breakdown as follows: "Governments lose £12 billion annually in terms of revenue, tobacco manufacturers lose £3 billion annually and other stakeholders in the trade lose £2 billion annually to smuggling across the world."
He said Nigeria currently loses $200 million annually to illicit tobacco trade.
He noted that illicit cigarettes worth approximately $10 million were seized and destroyed by regulatory agencies in Nigeria between 2008 and 2013. He added that the major reason illicit trade exists is the economic opportunity it offers for the smuggler and illicit vendor to make money and also for the consumer to save money.