By Bartholomew Madukwe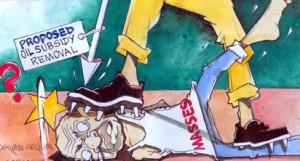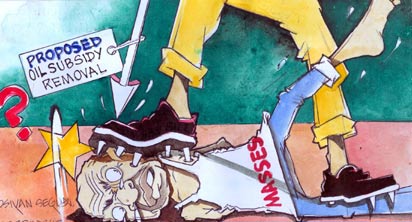 Justice Olabisi Akinlade, the trial judge handling the case of the dismissed Divisional Police Officer (DPO) of Yaya-Abatan Police Station, Lagos, Mr. Segun Fabunmi, charged for shooting Adedamola Daramola to death during the protests against fuel subsidy removal on January 9, 2012 has berated the Director- Lagos State Ministry of Justice, Mrs. Olabisi Ogungbesan for failing to produce any of the witnesses in court.
The judge of a Lagos High Court, Igbosere, was angered by the appeal of Mrs. Ogungbesan that the court should stand down the case pending the arrival of the Investigating police officer (IPO), whom she claimed was testifying in another case at a Magistrates' Court in Ikeja.
Justice Akinlade, subsequently asked Ogungbesan if the said IPO was the only witness the prosecution hoped to call during the trial.
In her response, Ogungbensan explained that there are two ballisticians and a pathologist, who were also not in court.
"Why bring witnesses in piecemeal? I have given you a whole day and you have not come to court with a witness. The same thing happened at the last trial date. I thought you were ready to deal with this case expeditiously" the judge queried.
Justice Akinlade said it was disrespectful for a High Court to be waiting for a witness who had gone to testify in a case at a Magistrates' Court, adding "I can't continue wasting my dates because I expect you to bring two or more witnesses to court."
Counsel for the defendant, George Oguntade (SAN), however urged the court to adjourn the matter since no one could say exactly when the witness could make it to the court.
Justice Akinlade adjourned the case to February 18 for trial.