Chiwetel Ejiofor's sister, Zain Asher broke down on live television Thursday while discussing what  the Oscar nomination of her brother for Best Actor in a Leading Role means to her and the British star's family.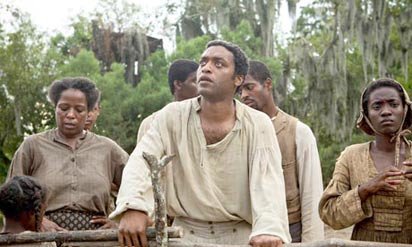 Speaking in a very emotional interview, the CCN reporter said, "Honestly, I could not sleep last night. I really couldn't. This was so emotional for me because I'm going to try not to cry, this was a day that my family has really been hoping for and waiting for, for such a long time. Chiwetel, he's been acting since he's 13 years. I told myself I wasn't going to cry. I do feel so emotional now," she said tearfully.
"He's worked so hard for this and growing up with him he was always in his bedroom practicing Shakespeare lines and writing Shakespeare on the wall. I would go out with my friends and I would come home and in the morning he would be reciting Measure for Measure and in the evening it would be Othello."
She continued: "He's someone who's really dedicated and an actor's actor. He's been acting for over 20 years, and so to finally see recognition for his work  I can't even describe the feeling."
Ejiofor, 36, has worked in Hollywood for years; Love Actually, Four Brothers, and American Gangster but has never received this much recognition before landing the lead in the Steve McQueen-directed film. He lost out to Matthew McConaughey for Best Actor at the 2014 Golden Globes Sunday night, but will be going up against the Dallas Buyers Club star once again.