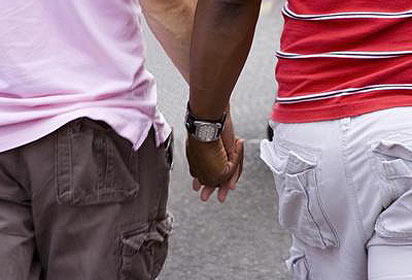 Gay
By Sam Eyoboka
IN the wake of mount-ing opposition from many western governments to the law against same sex unions, the God's Kingdom Society (GKS) yesterday enjoined the Federal Government not to bow to pressures to change its tough stance against same-sex unions, saying that Nigeria should stand her ground in order to safeguard the moral fibre of the nation.
The church made the call in the wake of growing opposition to the law against same sex union from many western governments who insist that it is inconsistent with "Nigeria's international legal obligations and undermines democratic reforms and human rights …"
Stating that it is dangerous to   legitimize homosexuality,  the GKS said though homosexual unions were being legalized in a growing number of countries, this was evidence of the   irrationality that is one of the signs of the last days, asserting that no efforts should be spared to root out the illusions that fed current liberal attitudes to same sex unions.
"Those agitating for allowance for same-sex unions are under the illusion that their techno- logical advancement gives them the leverage to define political and social trends in every part of the world," Brother Ifeacho contended  in a statement signed by the publicity secretary, Brother Benedict Hart, asserting  that those who claimed to be Christians should let the Bible be the sole guide of their actions and behaviours and not canvass certain causes for the expediency of gaining popularity and winning elections.
"It is common knowledge that a number of world leaders who now openly support same-sex marriages had long been proponents of civil unions but have changed their positions in order to align themselves with prevailing opinions such that when the UN endorsed the rights of gay, lesbian and transgender people some years ago, the resolution was hailed as historic by a number of politicians across the globe."