BY VINCENT UJUMADU
ONE of the few surviving nationalists and former Minister of Aviation in the first republic, Chief Mbazulike Amaechi has revealed how he hid the foremost South African nationalist and former president of South Africa, Chief Nelson Mandela for six months in Nigeria to evade his arrest by officials of the apartheid regime in that country.
Amaechi, who spoke with Vanguard at his Ukpor country home in Nnewi South local government area of Anambra State said people like Mandela are great assets to humanity and should not be going through the pains of life.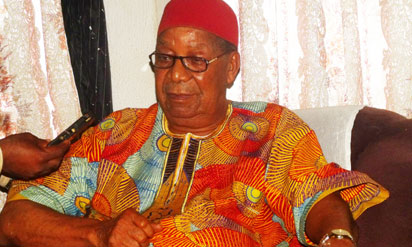 The former minister, popularly known as 'the boy is good', said it was a privilege to him being asked to live with Mandela when he ran away from the apartheid regime and came to Nigeria in 1963, adding that they shared great moments during the six months plus Mandela lived in his house.
According to Amaechi, even when Mandela returned to South Africa and was sentenced to life imprisonment, he still wrote him letters from prison, showing how appreciative he is.
The interview with Amaechi on Mandela went thus:
PRESENTLY, the foremost South African nationalist, Nelson Mandela, is sick and in the hospital. We want to know if you had any relationship with him in the past or an encounter?
Yes, he was the leader of the Africa National Congress, ANC. He led the group that struggled for democracy in South Africa. That was the time of the apartheid regime in South Africa and when the British government was desperately looking for him to imprison him; he ran away from South Africa and took refuge in Nigeria.  That was when the late Dr. Nnamdi Azikiwe was the President of Nigeria and late Dr. Michael Okpara the Premier of the Eastern Region.
When Mandela came to Nigeria, Zik as the leader of the nationalist group in Nigeria in consultation with Okpara decided that they should find a nationalist of Mandela's caliber who would accommodate him. So they called on me to take Mandela and accommodate him.
At that time, I was the parliamentary secretary and also a member of the parliament before I became a minister. He moved in to my house and stayed for about six or more months with me and my wife. I was then newly married while he was in his early 40's or so.
We used to go out together and both the British intelligence and the South African intelligence services knew that he was with me, but there was nothing they could do about it because I was in government. Then, after sometime, during our discussions, he said: "My stay here, how long will it last? "I think I better return to South Africa. They will either kill me or send me to prison and it will spur the other nationalists remaining to continue with the struggle.
So, after about six or seven months in my house, he decided to move back to South Africa. When he went back, he was promptly arrested, charged and sentenced to life imprisonment. He went to prison, but the nationalism in him did not depart from him.
He continued doing his best for some of his colleagues. He wrote me a letter from prison asking me to find employment for one Dr. Barange. Barange's father was a lawyer who defended the nationalists in a previous case, while Barange himself was a geologist. The apartheid people in South Africa were seriously looking for him and so Mandela wanted him to get out of South Africa. I was able to get a job for Dr. Barange at the University of Ife as a senior lecturer in Geology.
Mandella wrote me from prison. In fact when you called that you were coming, I went to my office to search for this letter. This is the letter he wrote me from the prison on the 18th of February, 1964, he signed the letter as Nelson Mandela, prisoner No 116570/63.
Then during his 74th birthday, he was still in prison, I joined his family to send him goodwill messages.
When he came out from prison, I wrote him too. When he came to Nigeria after his release, he specifically requested to see me and Dr. Azikiwe. So, when he came to Enugu, the then governor, Col. Robert Akonobi, because we were in military rule then, wrote me to say Mandela wanted to see me. I honoured the invitation and I went to Enugu with my wife to see him. He was in the company of his former wife, Winnie. We shared some time together before he went back to South Africa.
After that visit in 1993, have you been communicating with him?
Yes, my last letter to him was on 18th November, 1993.
Since the last letter, have two of you been communicating?
No. We have not spoken to each other again. When he was appointed the President of South Africa, I was invited to his inauguration ceremony, but the military here did not allow me to go. They said I needed clearance to go and I did not get it.
Subscribe for latest Videos