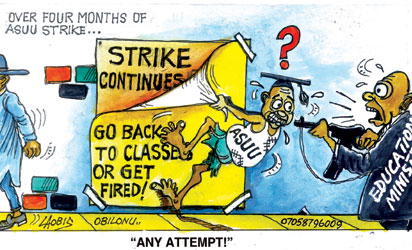 By  Peter Okutu
ABAKALIKI- GOVERNOR Martin Elechi of Ebonyi State yesterday called for the disbandment of the Academic Staff Union of Universities, ASUU in the country, following its alleged antecedent of sabotaging the effort of governments in the area of education and provision of infrastructural facilities to institution of higher learning.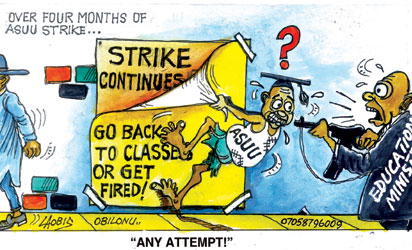 The governor made the call during an interactive session with members and executives of the state chapter of the Nigerian Union of Journalists, NUJ.
He described ASUU's action as a sabotage of the education sector and the corporate existence of country; stressing the need for the union to always consider the future of students while taking steps to contribute its quota towards the improvement of the education sector.
He said: "The major victims of this strike are not government but the students and things are not what they should be.
"ASUU is due for proscription; the way they are going is sabotage to the existence of the country. When I travelled I heard that lecturers had resumed in EBSU; my plan was that if any lecturer is to resume he or she is to renounce their membership of the union.
"At a point in time, history must change if not we will keep drifting; in EBSU, it is still a case of no work no pay."
On Ebonyi indigenes who were disengaged from Abia State civil service, the governor noted that the state had no covenant with the affected workers that they would be reabsorbed into Ebonyi State civil service.
He noted  that what was necessary was for the state to ensure that their retirement benefits were duly paid to them.
It should be recalled that over 80 Ebonyi indigenes who were disengaged from Abia State civil service had staged a peaceful protest at  Government House, Abakaliki, and other relevant government agencies in the state in 2010.
The indigenes, who were mostly from Ebonyi South and North senatorial districts of the state were seen carrying placards with various inscriptions, such as  'a sojourner has a home', 'we have come home for sense of belonging', 'Ebonyi state, salt of the nation, we embrace you', East or West, North or South, Home is better', Governor T.A. Orji says no to two dual citizenship, His Excellency, Ebonyi state Governor, kindly receive your people' moved around the vicinity, chatting songs to reflect their state of despondency.
Spokesman of the group, Mr. Okoro Chibuike Uduma, pointed out that the reason they were disengaged was because the governor of Abia State, Chief  Theodore Orji, wanted to implement the payment of the N18, 000 minimum wage for only indigenes of  his state.
According to him, most of them were disengaged from Abia State Local Government Education Authority, local government councils, among others.