Armed with an undeniable sex appeal and  sheer brilliance on screen, Beverly Naya is one gorgeous actress  who has had a blossoming acting   career.  She clinched   the  'Most Promising Talent' award  at the Best of Nollywood Awards in 2010, and' Fast Rising Actress' award at City People's Awards in 2011 . In this interview, she talks about how she landed her  role in M-net produced TV series, Tinsel, her favourite qualities in a man, and few things she thinks  people hardly know about her.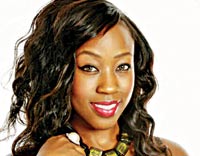 How did acting begin for you?
I started acting while I was 17 years. Then, I was still in London with my parents. I studied  Philosophy, Psychology and Sociology. But a part of me didn't feel fulfilled .So, I decided to embrace the arts which involves dance and drama . I felt like I was doing something  I really wanted to do. By the time  I was 19 years, I have already started making waves as an actress.
Was it all that easy breaking into Nollywood?
I shot my first film in 2008, while I was still in the university in London. I got a lot of praise for it. Each time, I was on holiday, I would return home to  be part of  one or two movie productions  before going back to London. That was my original plan. I really didn't have plans to relocate to Nigeria permanently. But after the  production of  my first film,  I resolved that I was going to relocate  to Nigeria to pursue a career in acting upon my graduation from the university.
What do you look out for in a script?
A script that will challenge me is the first thing I look out for. If I don't feel like it challenges me in any way,  I am most likely not going to accept the script.  There is no point in doing something that you don't derive fulfillment. It's always good to do  things you haven't done before . That's  how you can grow as a human being.
What if the pay is encouraging?
If I am in love with the script, it's not about the pay for me. If the producer has a low budget, and I am totally in love with the script, my passion will detect the pace. Passion motivates me because on my own, I am comfortable. If I  were to rely on the wealth of my parents, I would  lack nothing today. But I am willing to create my own wealth. With this, at the back of my mind, passion leads me. I hope to make money from what I am doing, so, I don't have to rely on my parents.
How do you handle stardom?
I don't  know, I just  stay  humble. I   never get used to compliments. This is  because when you get used to compliments, you start to become arrogant and pompous. I try to be friendly with everybody that I meet, because you never know who the person is.
What influences your sense of style?
For me, my style is sexy but classy .If you spot me on the red-carpet, do know that the intention is to look sexy and at the same time, extremely classy. I don't like to identify myself with any particular style. I am influenced by my mood in terms of  style. Style is influenced by the individual and not necessarily by the style of other people. That's fashion.
Have you ever been heartbroken?
I don't think I have ever been heartbroken, but I have been hurt. Being hurt is when you meet a guy that you really love, and things don't just work out. I won't say that is heart break, instead it's something that hurts.  When a woman is heartbroken, it means you have been completely  betrayed and  deceived by a certain situation and that has led you to feel heartbroken. I don't think I have experienced that, but I have experienced being hurt in love.
What role did your mom play in your first movie production?
She actually produced my first film as an incentive for me to relocate to Nigeria. At that time, I didn't have plans  to relocate  to Nigeria, so she convinced me  that the movie industry in Nigeria is thriving. She said: "Just come and check it out." .After that experience, I knew I wanted to relocated to Nigeria.
What are  your favorite qualities in a man?
I will be lying to myself if I say I don't want him to be handsome. I want my man to be handsome. Any woman that says otherwise is lying to herself. You have to find him attractive because that is important .He has to be ambitious, he has to be self-driven, God-fearing , a gentleman, just someone who knows how to treat a woman and make her feel she is a queen.
A lot of people have the perception that you are dating Uti?
That's old news. I am not going to revisit that rumour. It's been cleared on its own .I am not going to discuss it into 2014.
What is the one thing people hardly know about?
One thing people  hardly know about me is that I was bullied for most part of my formative years. A lot of people don't know that. As a result of the ugly  experience, it inspired me to want to help young children who might be experiencing any form of bullying; to encourage children to stay strong no matter what situation they find themselves. They need to understand the impact bullying can have on their future.
How did you land the tinsel role?
I was working in Atlanta and then I was contacted   for the role of Yaya, but at that time  I wasn't able to audition because I was working on a TV series. The producers were willing to wait. As soon as I got   back,   I  rushed to the studio for the audition. Fortunately, few  days after, I was called to come and pick up the role.  That's how I got it. They are such fantastic people and very professional.
What's your selling point?
My confidence, my zeal for life my ambitious nature. The fact that I don't give up, which is what I love about Nigerians in general. They are very resilient people. I think I am inspired by that and that pushes me forward. These are the things I would consider as my selling points. I don't go anywhere without thinking I am going to win. I think that is my selling point.
How do you handle negative social media comments?
I just ignore it. It's  none of my business. How you feel about me is really none of my business. If I am bored one day , I will address it. I have to be bored though. I  don't read comments on blog about me either .I don't see how that helps or enhances my life in anyway .So that's how I handle it.
What is your definition of a sexy woman?
A sexy woman is a woman who is confident in  in her achievements, one who would love to be in love; who has that aura and doesn't easily give up.
What has been your most challenging role in movies and why?
There was a character I played last year called Solidad, it's a Spanish word for solitude. It was in a movie  called "Stripped." It stars myself,  Joseph Benjamin, and Ramsey Noauh and it's about a young girl who is an orphan and she has to take care of her older  brother who lives in a wheelchair. They struggled with their finances and everything she made has to  be used for the upkeep of her older brother. He depends on her physically, emotionally and financially. It's filled with all the emotions that she goes through to take care of her brother.
What were the challenges you encountered as an emerging face in Nollywood?
It was probably having to adapt   to the  new culture, new territory,  new environment, new style of acting. It was difficult for me. There was a lot of high expectations placed upon myself, I think that was definitely a challenge on its own.
What are the things you do to stay relevant?
For me, it's just work. Working hard and letting my work speak for itself instead of just tooting my horn. That' s not really how I want my brand to be perceived. For me, it's just working hard and allowing my work to speak for itself.It's about getting opportunities and utilising it well.
You recently took to twitter to address some issues affecting the entertainment industry? What inspired you to do so?
I am human and if I feel like expressing myself I will do just that. I know fair enough I am a celebrity as they  say in this country. Whenever I choose to vent my anger is not necessarily about something that has happened at that moment in time. I can just decide to pick on an issue and tweet about it. That's one of the reasons I don't tweet as I used to. I am very blunt and outspoken by nature and for that reason, I choose not to tweet as much as I would have wanted to, simply because I don't want my tweets going viral. It's nothing personal. It's just me allowing myself to express my mind.