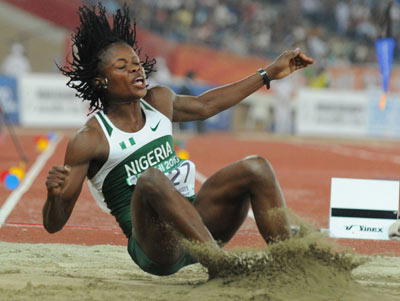 By Solomon Nwoke
President of the Nigeria Olympic Committee (NOC), Engr. Sani Ndanusa has described year 2013  as a year of reshaping and re-engineering for the entire Nigerian sports sector.
Smarting from the not too good outing of the country at the 2012 London Olympics, Engr. Ndanusa said the London experience  and other sporting events have helped to reshape and re-engineer sports in Nigeria and predicted that 2014 would be a better year for the nation's sports.
The NOC boss in a recent interview with Sports Vanguard in Yenagoa, Bayelsa state said, "I must say that 2013 has been a year of reshaping and what I will call re-engineering of the entire sports sector in Nigeria and definitely you cannot say that without giving kudos to the Sports Minister, Hon Bolaji Abdullahi and the entire team of the National Sports Commission ( NSC) because we came out from a very difficult 2012 where our Olympic outing was not good.
I am glad that we are using that as an experience because you learn from winning and you also learn from failure. So this is the first time that we are having this kind of experience. It is gingering us to now come up with another way of doing things. Really, it has not been business as usual.
"The most important one is of course, the realisation that Olympic Games is a world class championship. Globally, it is the highest and for you to pick any medal there, it means that you are the best in the world and we are talking about competing among 209 countries in the world that have structures on ground, that have a lot of funding..
And if you look at it what happened with the West and the Central Africa? This is because no West African country that came back with any medal just like us. So therefore, we have re-energised and reinvigorated our preparation.
Kudos again go to the fact that we are going to have our High Performance Centre where at least, we can have close to the world class Olympic standard facilities and equipment for training and also get attracted to world class coaches.
These coaches of course know their way and they expose the athletes to big competitions and also the ranking issues because ranking matters.
Once you are on top of the rankings within the world class in any of the sports disciplines, you know it's going to favour you. It is a different case when you are not within the top rankings because you will face the toughest competitors before winning a medal in the Olympics.
Remember what we had with the female boxer, she was a nobody and her first bout was against number three in the world and the second one was against the world's number one, so you see that there was no chance of going beyond that round.
All these have been identified and I want to say that we are working assiduously toward ensuring we don't find ourselves in similar situation again. Most importantly, we at the NOC are working hard to meet up with our time line and all the requirements. Preparation towards the forthcoming Commonwealth Games has started already.
So we are meeting up with all the time line in terms of the technical, logistic and accommodation issues. The preparation has started already I can assure you , no mistake. I must also thank the NSC for making most of the arrangements easier and early enough, especially in the areas of accommodations which have been paid and the tickets also acquired.
The athletes Village for Nigerian athletes has been located. I must say that we are on ground". Ndanusa who also doubles as the president of the Nigeria Tennis Federation (NTF), however declined to score their performance in the outgoing year when asked to do so.
"If I have to score our performance you are making it a difficult one for me because it's like I'm scoring myself. Definitely, there's a lot of hope more than ever before for Nigeria in the coming year, 2014″, he said.