BY JONAH NWOKPOKU
LAGOS— The Managing Director, Bank of Industry, BoI, Ms. Evelyn Oputu, has charged Nigerian women to take their destinies into their hands and strive for opportunities that will empower them financially.
She gave the charge while speaking at Women on Wellness, WOW, conference organised by Vanguard Allure magazine in Lagos.
Speaking on Building Financial Capacity as a Valued Health Model: Approaches, Intents and Opportunities, Oputu asked women to be proactive and emulate their male counterparts' approach to financial freedom.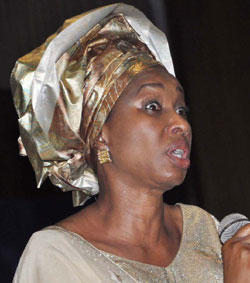 Oputu said: "You need to empower yourselves since you remain the pillar of support of the society as far as care giving is concerned.
"When going into business, go into it like a woman but do it like a man. Embrace your hobby and things that are profitable and you must learn to win without losing yourself."
The conference, organised to mark the fifth anniversary of the WOW programme and a prelude to Allure's annual award, had experts from different fields educating wo-men on health-related issues, improved healthy lifestyle and financial management.
On health, sleep
An orthopaedic surgeon, Dr. Aham Onyike, who spoke on The Desirability of Healthy Habits for Improved Condi-tions of the Musculoskeletal System, said that changes in lifestyle, especially inactivity, are the major cause of orthopedic issues.
He encouraged the participants to embrace more physical activity instead of leading sedentary lifestyles.
He said: "The lifestyle of our forefathers involved lots of physical activities and therefore led to better health. Today, our bodies have become inactive due to the nature of work and predominant lifestyles.
"So we have to design artificial activities, like exercises that the body would respond to, as research has proved that the body responds to such activity for improved health."
On his part, the Managing Director of Sleep Medics, Dr. Don Onu said that to maintain perfect health, people should understand the importance of sleep as it is needed to restore and heal the body.
Speaking on Managing Sleep Routine: A Necessity for Optimal Health, Cognitive Functioning and Emotional Health, Onu noted that the human body depends on sleep to be able to function well.
Fashion, image
The Creative Head, Adeba-yo Jones Limited, Adebayo Jones, who spoke on image, style and fashion, undersco-red the importance of managing social reputation through responsible fashion and style.
He spoke on How Your Style and Style Choices Affect Your Image and Social Well-being, Jones said people's oppor-tunities to succeed in life is impacted by their sense and choice of fashion.
He said: "How you present yourself would affect your opportunities in life. It would also affect how you are perceived as a professional person.
"It would by extension determine whether people would consider doing business with you."
Other speakers at the event were Dr. Abayomi Ajayi and Eryca Freemantle, who spoke on family wellness and non-invasive reconstructive make up, fitness and living well, respectively.
Some participants that spoke to Vanguard after the programme said they were impressed as they have been empowered to embrace life with a renewed vigour.
Ibiyemi Fashina said: "This is my first time of attending the WOW programme and I must say that I enjoyed all the topics that were treated.
"Although for want of time, some of the speakers could not go into many details, I got the messages. They were clear enough. And this is good for Nigerian women. I feel empowered."
Editor's remarks
On her part, the organiser and Allure Editor, Remmy Diagbare, said: "Allure is not just a fashion magazine. It is about fashion, lifestyle and wellness. Put together, the topics make the total person.
"We are not just interested on what you put on, on the outside. We are also interested in what happens to you on the inside, because if you are not well and healthy, whatever you may put on amounts to nothing.
"So we have tried to marry the two, to ensure you are well and then doing fashion. That is what Allure is all about.
"WOW is all about trying to create awareness about health and push out information that would help individuals make better health choices.
"What we are hoping to achieve is that by tomorrow, Nigerians would be so conscious about their health that instead of all the gold and the music, they would also add their fitness to all their enjoyment in fashion, music and football."
Some dignitaries at the event were Dame Abimbola Fashola, the First Lady of Lagos State, and Vanguard's Editor-in-Chief, General Manager Publications, Mr. Gbenga Adefaye.