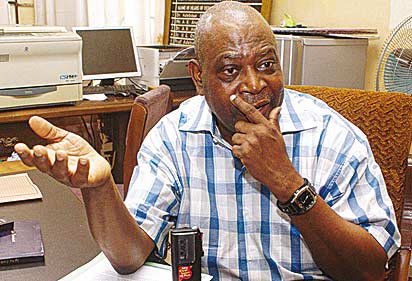 Prof. Iyayi
*As  civil societies give FG 7 days ultimatum to set up probe panel
BY SIMON EBEGBULEM & GABRIEL ENOGHOLASE
BENIN—ACADEMIC Staff Union of Universities, ASUU, University of Benin chapter, has called for the trial of the Kogi State governor, Alhaji Idris Wada and others connected to the accident that claimed one of their colleagues,      Prof. Festus Iyayi.
The union also blamed the government of the state for attempting to distort the facts about the accident.
Meanwhile, civil society organisations in Edo State have issued a seven-day ultimatum to the Federal Government to set up a panel of inquiry to investigate the death of Prof. Iyayi, or face unpleasant reactions from Nigerians.
The organisations, made up of legal practitioners, students, labour unions and lecturers, made their position known, weekend, at a symposium and street protest organised by the Africa Network for Environment and Economic Justice, ANEEJ, and National Human Rights Commission and  Citizens Wealth Platform to mark 2013 International Day to End Impunity.
Executive Director of  ANEEJ, Rev. David Ugolor, said that a society not driven by justice was unacceptable, hence the need for the Federal Government to set up a panel of inquiry into the killing of the former ASUU president.
Uniben ASUU, on its part,  said that at the appropriate time, ASUU and the Iyayi family would demand concrete answers from the Kogi State Government for Iyayi's murder.
Reacting to the accident that claimed  Prof Iyayi's life, the ASUU branch Chairman, Dr. Anthony Monye-Emina and Secretary, Okeri Henry, said: "Prof. Iyayi did not just die in an accident, but was willfully murdered by the state and its agents.
"Nigerians are aware of the recklessness of political office holders and their aides and in particular, of Alhaji Idris Wada on our roads and the arrogance that goes with it. It is time that Nigerians rise up to curb the menace and put a stop to the lawlessness, recklessness and impunity of our leaders."
Insisting that ASUU and the Iyayi family were capable of giving him the befitting burial that he deserves, the union said that it did not want any state interference in his burial, warning that "his burial should not be an avenue for government officials to score cheap political points as we will resist any state involvement in the burial."