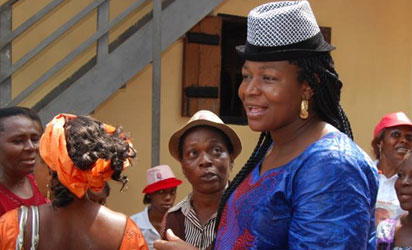 Ifeyinwa Nwoye
By Emmanuel Aziken
Mrs. Ifenyinwa Nwoye, wife of the PDP candidate has articulated reasons why her husband should be voted in this weekend.
In a message circulating on facebook, Mrs. Nwoye lauds her husband's accomplishments as a family man, civil and students' rights cum political leader, among other testimonials. She said those past achievements would bear positive influence on the governance of the state if her husband is elected this Saturday.
"He has a character line that reflects unpretentious family and social concerns and lives laboring for collective good. He believes in the power of shared vision even at the family level.
Good mothers, good fathers and young elements electorate, I stood as young mother to witness that this mandate given to Comrade Tony Nwoye is a sacred social contract with a man of charisma and mission to serve and transform Anambra state to her pre-eminent LIGHT OF THE NATION status."
"I witness that his pro-people and transformational manifesto is a sacred covenant and out there begging for your cherished voters' mandate.  He is a good man, he has been a tested activist and political leader.
He will do well as a grassroots governor and there will be accountability, transparent and good governance, genuine government and workers' relationship, job opportunities, youth and women empowerment programmes, etc. Ndi nne, ndi nna na ndi ntorobia Anambra state, vote Comrade Tony Nwoye for governor of Anambra state; vote for our children's children. No two ways to Anambra liberation," Mrs. Nwoye wrote.
APGA expresses anxiety over influx of miscreants
By CHRIS OCHAYI & CALEB AYANSINA
APGA National Chairman, Chief Victor Umeh has expressed anxiety over the influx of miscreants into AnambraState ahead of the weekend election.
Umeh who spoke when he presented the APGA candidate, Wilie Obiano to the Anambra community in Abuja at the weekend thus called on the Federal Government to deploy soldiers to the state ahead of the election.
Also presented to the Anambra community was Obiano's running mate,
Nkemakonam Okeke to them, in Abuja.
Umeh said: "we came here to introduce our governorship candidate; Dr Willie Obiano and his running mate, Nkemakonam Okeke to the people of Anambra state residing in FCT.
He said it was necessary to solicit the support of the Anambrarians living in FCT to consolidate on the various achievements recorded by Governor Peter Obi, noting that the party believed that its candidates could be trusted with the state's administration.
"We have capable hands to do the job. We have found him to be worthy in character and learning, they are the most qualified people to be trusted with the state," he stressed.
Umeh further noted that though the party believed in the ability of the Independent National Electoral Commission (INEC) to conduct free and fair election, but with the influx of miscreants currently in the state there is going to be a problem.
"It is important to state clearly that one challenge that this election may likely face will be in the area of security.
"We want to use this opportunity to ask Mr. President as Commander-in-Chief to do everything to ensure that this election is not mismanaged through security lapses.
"We want them to start to deploy policemen, and if possible soldiers on time, deploying policemen a day to the election usually do not work, because before the election criminals could have infiltrated the state.
"I can tell you today that we are very worried about the action of miscreants, the overzealous and desperate politicians have imported into the state, and they are planning to wreck havoc on the day of election.
So, if the President gives the right instruction, I am sure with full security deployment and INEC lives up to expectation, the election will be a success."