By Wole Mosedami & DEMOLA AKINYEMI
ILORIN — The campaign train by All Progressives Congress, APC, to woo aggrieved governors in Peoples Democratic Party, PDP, to their party came to a stop in Kwara State, yesterday, where leaders of the party boasted that they had succeeded in factionalising PDP.
Before arriving Illorin, the Kwara State capital, APC leaders made a stop in Minna, Niger State, Tuesday night, where they also wooed Governor Babangida Aliyu to jump ship.
Aliyu said the present crisis in PDP was a welcome development that had brought revolution closer to the people.
Governor Abdulfatah Ahmed of Kwara State and Governor Aliyu promised to consult with stakeholders in their states before taking a definite decision on their stay in PDP.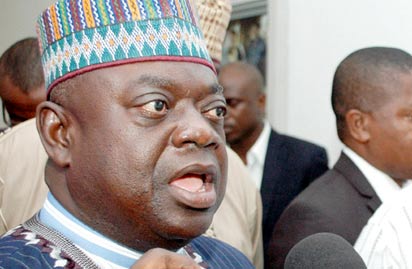 Governor Ahmed led government officials to welcome the APC delegation that included former Head of State, Gen. Muhammadu Buhari (rtd.); Asiwaju Bola Tinubu; APC protem chairman, Chief Bisi Akande; acting National Publicity Secretary, Alhaji Lai Mohammed; former Speaker House of Representatives, Alhaji Bello Masari; Senate Minority Leader, Senator George Akume; former governor of Edo State, Chief John Odigie-Oyegun, among others.
Chief Akande said: "I'm at home here so I don't want to perambulate. We have come to Kwara State through the government and the governor to invite you to join APC.
"We are also extending our invitation to members of the new PDP. We are starting a revolution that will make this our country a nation of the progressives. We cannot do it alone that is why we have come to invite you to join us."
Responding, Governor Ahmed said: "Today, APC has become a formidable opposition party. They have been going about marketing. That is what I can call it.
"They have come to market to us. Among the 36 states of the federation, Kwara is peculiar; it is a bride. We have a structure that was selflessly delivered by our late father, Dr. Abubakar Olusola Saraki.
"I can assure you that as a people, once the leadership is consulted, the right decision will be taken and you will be consulted."
The night before, the APC leaders had arrived Minna directly from their visit to Governor Rotimi Amaechi of Rivers State.
Governor Aliyu had told them: "What is happening in our party (PDP) I believe is part of the revolution that is catching on with Nigeria.
"Many of us see it as an internal struggle and we are believing that it will turn out to be a good omen for the party in particular and Nigerians in general."
As for crossing over to APC, the governor said, "We are still struggling and discussing with our party and we have declared ceasefire.
"We will see you as friends and if we don't resolve our issues, you can come back in full blast and I believe you will have many followers.
"But for now, as people who keep to a promise, as people who honour agreement, we still belong and speak as members of PDP."