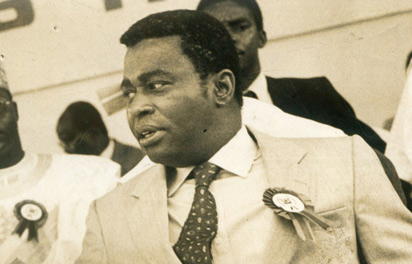 Chu Okongwu
By Emeka Mamah
Sonny Chu Okongwu, an economist, was minister of national planning, 1985-1986; and minister of finance, 1986-1990; under the Babangida administration. At 79, he takes us through the journey of his life, from the colonial period when he was a journalist at Daily Times.
HOW DO YOU FEEL AT 79?
I celebrated my 79th birthday on September 23. At 79 plus, one is in old age and contemplating retirement from consulting for those who wish to be consulted for and ruminating about Nigeria; the past, and the present, how the future should be for our children and our children's children, and reading.
HOW ABOUT YOUR HEALTH?
Well, my health is as good as it can be at my age. I still manage to do three miles of walk every day; that is four days a week and, from head to toe, there are usual old age problems, but I think I am happy to be around. I have no plans of wasting my time on chonyi, chonyi, chonyi… every minute of my God's given time on earth. I have been usefully engaged in something productive.
YOU WERE A JOURNALST. I DON'T KNOW IF YOU ARE STILL ONE. HOW WAS IT PRACTISING THEN AND WHO WERE YOUR CONTEMPORARIES?
That is a wonderful reflection for me. Yes, I was a journalist but, before then, I was in broadcasting. I had my own programmes, Jaz Club, and then I moved into journalism. It will be unfair to omit any names and it will be impossible to mention all, so I must be forgiven if I omit some. But I can tell you about the external influence in journalism at that time. There was Godfrey Afolabi Lardner, for example. He was a deputy permanent secretary, and Mr Ugo, a deputy permanent secretary in the Nigerian Office, which later became the Ministry of Economic Development. It was wonderful chatting with him (Ugo) and even being educated by him off chat. Then there was Ingris Coker; wonderful pen.
He left the West African Pilot to go to the Ministry of Information.
He had the most beautiful pen; wonderful pen. A.Y.S Tinubu, another wonderful pen, he was editor of The Pilot then. Then, in the Daily Times where I started as a sub editor. There was an experiment that P. Robertson, general manager, and Cecil King, wanted to try; to take people without reportorial experience to sub desk and groom them from there. Peter Enahoro and I were selected and we started work same day. So, I started work as sub editor in Daily Times without reportorial experience like court reporting, etc. We then had Ebun Adeseye; Gab Idigo; editor, Lema Name, news editor; Adora Ulasi was there as woman editor. Oliver Jack-man came down from Cambridge to join the team. He was in Sunday Times. We also had Cornell Aircraft, Gilbert Barker; they were the two young men who came from Oxford. We had wonderful time, playing with dictionaries and education on modern English usage; learning all the essays and stuffs like that and so on. There was Bisi Onabanjo at Apongbon Street, Lai Mabinori; and I must not forget my friend, Bola Adewunmi, wonderful child. He was studying law and, at the same time, practising journalism. There was Njogwu Ani,
He was also wonderful. We also had Herbert Unegbu (Unu Habib). He had a wonderful pen. Peter Osugo, PECOS, sports editor. Later on, Mr Jaja joined us as a reporter. There were Nuhu Bamali as we then called him, Willie Nwokedi, before Alex Nwokedi and Mike Ikenze joined us.
There was Emmanuel Abaide. Later, Babatunde Jose came back as regional correspondent after going to Mecca. Of course, I cannot forget to mention Abiodun Aloba (Ebenenzer Williams), who later became editor of Sunday Times. It was a wonderful team; a collegiate.
It was there I learnt about team work, doing the work on the desk and in the case room. You don't have case room these days. But in those days, we had manual type operators, case rooms, printers and the lead thing being melted on the slugs and then put on to cast, and then you went down to the case room or box room to copy it upstairs to proof.
You could read backwards, proof read and correct. They were wonderfully skilled people. One night, the stone sub editor passed away and the post became vacant. The general stone sub then asked me to take the job. The salary was 20 pounds a month. So, I took the job and went into the case room for the production of the paper. It was a wonderful experience. The stone sub gave final approval for the paper, that means there should be no mistakes, no spelling or grammatical errors, etc. Of course, I had mentioned to you that Mr Robertson was the general manager and Mr James (an expatriate), who later became our in-law after marrying Adaora Ulasi before Theresa Ogunbiyi came in as the woman editor, was the editor. It was really a wonderful learning period. So, my experience as a stone sub, learning the stone work and final production processes has remained incredibly useful till today. So, I consider myself still a journalist,
with due respect.
SO YOU WERE MORE OR LESS LIKE THE EDITOR OF THE PAPER?
Yes, the Nicodemus (man behind the mask) editor because I didn't have the experience and my decision was always upheld by Preston Robert. It was a wonderful experience. Rapid work, intelligent work and sound work; correct use of English Language, so it was enjoyable time. Of course, we were in touch with politicians, academicians, civil servants all the time. Do not forget that this was during the time of colonial rule; twilight of colonial rule and we had ex-Zikists who joined us like Marshal Kebby.
HOW DID YOU SWITCH OVER AS ECONOMIST?
That came step by step. With the contact I was making, ideological contacts, political contacts, recharging your intellect was there. It was clear that I wanted to improve my technical and academic background. So I opted for economics, economic history… I passed my six subjects, A-Level. We then heard that one Samuel Aluko had distinction in his bachelor's degree in economics. Waoh, how can we do that? We also heard about Pius Okigbo and P.K Nwokedi. Then one Chuks from Awka- Etiti had a book store and we became his customers and debtors, purchasing books for the B.Sc Part One; B.Sc Part 11 studying at home. So, we didn't go abroad, you understand? In that process, I got government scholarship but I still didn't go abroad. I mentioned Bola Adewunmi, he was in
Daily Express in Apongbon Street. Bola also studied law.
That was a wonderful time in Nigeria. Bola was a Yoruba chap and I was Igbo but we were wonderful friends. We would meet at Ambassador Hotel; dancing places in Sabo opposite the Zik's Press by Commercial Avenue. I don't know whether the place is still there. That was where we retired to after working as journalists to drink.  Anyway, Bola asked me to meet him one day at 6pm and, by the time I went, he was there. Bola said,
'What are you drinking?'… I had one pound in my pocket and one pound in those days could buy maximally eight bottles of beer. So, he bought me a tin of cigarettes; they used to come in 50s those days. I don't think it is still like that these days and, when I protested, he said, 'Don't worry, this is from my imprest account'. I said, 'What do you mean Bola? He said 'you yeye man. You came to my party'; we had one party at his house at Idi-Oro. He said he was going to England to complete his law degree. He said he came with one lovely young lady; I said yeah. He said 'but you didn't ask me about my going away and about my job?' I said 'yeah, that is right but the job is for other people'. He said no and I said 'e eh what do you mean?' He said ' Sunny, you are going to get the job'. I said 'what do you mean' and he said,
'Sunny, you are the best journalist around, you need the money and I know you are still interested in studying'. I said 'oti o!' He said 'yes, I have told the director that you are the one for the job.
That is why I called you'. I couldn't believe it because you know in those days, people looked at journalists as just public relations officers,
PROs, to oil companies. And here I was being told to be the PRO for Mobil Oil. So, I said, 'what am I getting as salary?', and he said he was getting 60 pounds a month and additional 10 pounds as car allowance making it 70 pounds but that I would get 50 pounds as salary a month and 10 pounds as car allowance bringing it to 60 pounds a month. I said 'what?' He repeated what he said earlier. I said I was earning 20 pounds a month and now going to earn three times that figure and I didn't apply for any job? I said
'Bola, but why are you making a joke?' but he said, 'no!' He said, 'you are coming on Monday and we see how it works. Come and see how the place is and we go and see Apapa Depot and we will go in an aircraft'. I said 'really?' I didn't know when I got home. So, I told my mother at home and she said, 'did you apply or any job?' and I said no.
She then said, 'how can you get a new job when you have not applied for any?' I said it is true, my friend called me and offered me the job. She said 'your friend offered you the job?' I said yes. She said 'what is the name?'I said Bola Adewunmi and she said 'no, it was not possible'. That a Yoruba man, it is not possible. I said 'mama it is true'. When she realised I was serious, she became convinced. You know Bola said he had one thing to beg me for and that was that I should look for someone as good as I was to take the job when leaving for further studies; which I did of course, Nwankwo, a beautiful fellow, good journalist at that time.
This was a year later. Can you imagine what happened those days, someone who is from a different tribe offering you such opportunity? It can't happen these days. You won't get it.
We had Bisi Onabanjo, well talented, Oliver Jack-man.
We can go on and on. Students in those days studied and worked hard. If you study, when you are not working on the paper, then you play with the dictionary; look up words, give them to each other, share the words, the origin, ethnology, pronunciation, etc. Then as the words or phrases are used in modern English. We had to do that- which, shall, should-all those words. For me, my experience as a stone sub, not just in the layout which I perfected upstairs, but also in as the final authority on the paper has remained indelible in my mind.
WHAT IS YOUR ASSESSMENT OF THE ECONOMY?
Well, things are very dire. Certainly, things have been down but it is still going down and down. Employment, infrastructure, transportation, education system, education infrastructure, health infrastructure are all in complete disarray. In any case, the economy is not distinct. It is only conceptually distinct from society. The economy is everywhere in society. We have economy here …the society itself is in very bad shape to say the least. The society is extremely disorderly. It is hyper-praetorian disorderliness. That is, everything is entirely disorganized. There is no concept at all.
You think you have economic progress, economic growth, investment, foreign or local, but you are not going to have because of this disorderliness. That makes it hard for the so-called economic managers because they cannot, they have to reclassify the society; re-arrange, the society has to be re-arranged to be peaceful, orderly and oriented towards production. Where society is peaceful, orderly and where the main means of recompense or distribution is rent, that is unearned income; as man-know – man or lay man's term, corruption, but you are like in large income you have not worked for or you have not earned, then nobody or the majority of the workforce will really engage in productive endeavour. The education to earn more is not there. This is the type of situation that we are in now.
The disarray in society has been magnified and so, in simple terms, we have come to a stage where gangsters have been brought to the centre-stage of the political and social arena and mediocrity and all sorts of things are enthroned rather than excellence, hard work and productive endeavour. Let me give you another example. There is no power (electricity) currently here. If you leave here and you go to Cross River State, you may find out that power outage has been calculated to 80 or 90 per cent all the time and that is for a good state or Lagos area it is 50 something to 60 per cent. If you are in iron smelting or metal production where you need continuous natural power, you cannot do that and the cost of power would be very high or prohibitive. So, it is not surprising that we do not produce anything essentially except maybe crude petroleum. We cannot even produce refined one because we discriminate against ourselves and favour foreign goods. I am not talking of ban this or ban that.
There are policies that you use to encourage domestic production. We have to look inwards to do things that are good for the economic or social body but we do the wrong things for our socio-economic value. If you have to travel from Port Harcourt to Enugu or Enugu to Lagos for two days because of diversions (due to the poor condition of the roads), you cannot really be a producer or compete in your own environment, talk less of global environment.
So, in trying to re-arrange like this, you have to have a sound social frame, peaceful, just and
people will feel that they are part of the society, they can produce and they are secure. There is security, orderliness and compensating mechanisms for those who want to engage in economic activities so that it pays them to so do. But if it pays them to engage in kidnapping, politicking or political entrepreneurs that is renting; that is good for you. And if it pays them to engage in education, so that they can enhance their income, they would do that. So, it is a very serious matter. We require sound policies to focus on production, fix ideas. Let us take this current issue of re-arranging the social framework of Nigeria; let us have a focus, so that we can be oriented towards that focus. If the focus is not towards productive endeavour, then we have not begun.
NEXT WEEK, CHU OKONGWU SPEAKS ON THE BABANGIDA REGIME'S ECONOMIC POLICIES WHICH, ACCORDING TO HIM, WERE MISUNDERSTOOD; THE DECAY OF THE LAST 14 YEARS; AND HOW TO RE-ARRANGE THE SOCIAL FRAMEWORK OF NIGERIA.