Fidelity Bank Plc has appointed Mr. Nnamdi Okonkwo, Chief Executive Officer designate, to take over from Mr. Reginald Ihejiahi, who is expected to retire from the bank, February 2014.
According to a statement by the bank, Okonkwo, who is currently Executive Director in charge of South Directorate of the bank, holds a Bachelor of Science degree in Agric Economics from the University of Benin and an MBA in Banking & Finance from EnuguStateUniversity.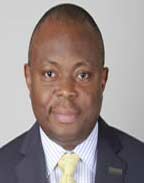 The bank also said he is a graduate of the Advanced Management Programme of INSEAD Business School, Fontainebleau, France, adding that he has attended various business and management training locally and overseas, including HarvardBusinessSchool, Oxford.
Experience
The bank said, "Nnamdi comes with over 23 years of experience in various aspects of banking. Between 2006 and 2009, he was Managing Director of United Bank for Africa (UBA), Ghana, and between 2008 and 2009, he doubled as the Regional Chief Executive Officer for UBA West African Monetary Zone, with responsibility for Ghana, Liberia and Sierra Leone.
"He later became Divisional Head for the Corporate Bank Directorate between 2009 and 2012, before coming back to Fidelity Bank Plc, as Executive Director, having earlier worked in Fidelity Bank (old FSB that consolidated to form the enlarged Fidelity) between 1998 and 2000. In that period he had been Senior Manager in branches both in Lagos and Port Harcourt.
At UBA
"Between 2004 and 2005, Nnamdi had been General Manager in Standard Trust (which later became UBA) and later in 2005, was Regional Director of UBA in charge of branches in the FCT, Niger and Kogi states.
"This is the third CEO of Fidelity Bank after 25 years of operation, making it one of the banks with the most stable management in the industry.
"Following the Policy of the Central Bank of Nigeria which stipulated a maximum term of 10 years for Bank CEOs, the current CEO, Mr. Reginald Ihejiahi, who assumed duties in early 2004 will have served out his term in February, 2014."
Continuing, the statement noted, "Mr. Ihejiahi took over Fidelity Bank Plc and inherited the challenge of setting the course for growth.
Ihejiahi's achievements
"From being in the top 30 banks in Nigeria with N20 billion in deposits, N30 billion in total assets and less than 150,000 in customers, he orchestrated the consolidation of the legacy Fidelity Bank with the former FSB International Bank Plc and Manny Bank Plc to form the currently enlarged Fidelity Bank Plc.
"The bank now ranks among the top 10 banks in Nigeria with over 1.0 billion US Dollars in equity, over N1 trillion in total assets and 2.3 million customers, represented in 220 branches compared to 17 branches at take on, with presence in all the state capitals and major commercial centres in Nigeria.
"Fidelity is today the 6th largest bank in Nigeria, by shareholders' funds, and one of the few companies that have consistently paid dividends, without fail, in the last eight years. Mr. Ihejiahi and his team also led some of the landmark international financial transactions in the industry including the issue of Global Deposit Receipts (GDR) in 2007 and the $300m debut issue of internationally traded Eurobond in 2013."