By  Ikechukwu Nnochiri
ABUJA — The alleged mastermind of the Christmas day bomb blast that killed about 44 persons and wounded 75 others at St. Theresa's Catholic Church, Madalla, Niger State, in 2011, Kabiru Umar, a.k.a Kabiru Sokoto, yesterday, instituted a N300 million suit against the Federal Government.
In an application he filed before Justice Adeniyi Ademola of the Abuja Division of the Federal High Court, Sokoto, who is answering to a two-count terrorism charge, urged the court to award the money to him as exemplary and general damages against the Federal Government over alleged torture and beatings he suffered in the hands of operatives of the Department of State Services, DSS.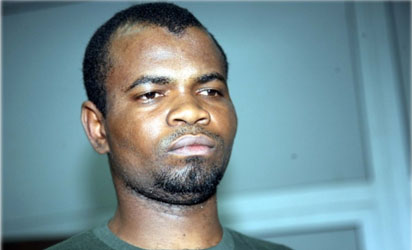 He made the application shortly after his team of lawyers, led by Mr. Sheriff Okoh, urged the trial court to discharge and acquit the accused person for want of incriminating evidence linking him to the Boko Haram Islamic sect.
It was the contention of the alleged Boko Haram kingpin that the government failed to establish a prima-facie terrorism charge capable of warranting his conviction.
"We urge this court, based on facts, to discharge and acquit the accused person for want of evidence and inability of the prosecution to establish a prima-facie terrorism charge against him.
"The accused in count two is being accused of having information about terrorism attack at St Theresa Catholic church, contrary to section 7(1) of the Terrorism Prevention Act, 2001, an allegation he has denied.
"For a person to be guilty under this section, there must be a 'Mensrea' which goes to knowledge and believe that the offence will be committed or has been committed.
"The only context in which the term knowing can be construed under the terrorism prevention Act is actual knowledge and the constructive knowledge."