By SAMUEL OYADONGHA
Yenagoa — The alleged disappearance of two suspected sea pirates from the custody of Special Anti-Robbery Squad, SARS, unit of the Bayelsa State Police Command, is now a source of concern to their families.
The suspects were reportedly arrested on the waterways in Sagbama Local Government Area for illegal possession of four AK-47 rifles and detained by the police.
A close family member, who spoke on condition of anonymity, claimed that they (suspects) are not members of any sea pirate gang.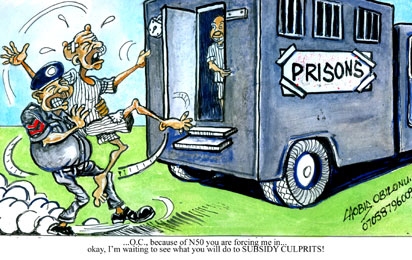 According the source, the firearms found in their possession were for the security surveillance jobs on the waterways.
It was learnt that at the time of suspects' arrest, the rifles were hidden inside a drum of diesel.
The arrest and detention of the suspects, however, took a new twist when efforts by the families to reach them failed with their whereabouts still unknown.
The suspects were allegedly taken away from detention at 1 a.m., two days after their arrest by security operatives.
Though the claim could not be verified, family members, who took food to the suspects but could not find them, expressed fears that they may have been extra-judicially killed in custody.
A family member,  said "we are puzzled by the attitude of the police. How can suspects disappear from police custody without trace? The police told us that the suspects have been transferred to the State Investigation Bureau, SIB. We searched and did not find them."
Contacted on the development, the state Police Public Relations Officer, Mr. Alex Akhigbe, denied knowledge of the disappearance of the suspects.