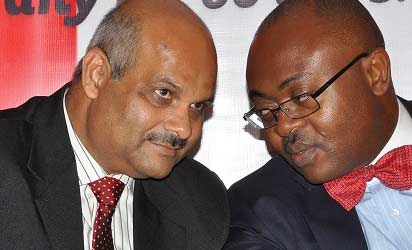 (L-R) Airtel Nigeria's Chief Operating Officer and Executive Director, Deepak Srivastava and Director of Corporate Communications & CSR, Emeka Oparah exchanging views during the launch of Airtel Red Hot Promo in Lagos on Monday.
Lagos –  In keeping with its vision to become the most loved brand in the daily lives of Nigerians, leading Telecommunications Service Provider, Airtel Nigeria has launched a new consumer promo to reward existing and prospective customers.
The promo, which is tagged AIRTEL RED HOT PROMO, will produce one winner of one million naira on a daily basis for 60 days.
Every customer that participates in the promo will win a prize and also stand the chance of winning the ultimate star prize of N10 million at the end of the promo. In addition to these fantastic prizes, Airtel will be offering high-end smart phones to 100 lucky customers every week and free airtime to over 5,000 customers.
Also, because everyone is a winner in the Red Hot promo, customers will get five free SMS and one value added service (VAS) for every recharge throughout the duration of the promo.
To participate and qualify for a chance to win millions of cash and other fantastic prizes, customers will need to engage in any or all of the following activities: recharge their lines, recharge data service, purchase a handset or data bundle, meet their 5X target, subscribe to 'Talkmore' or join the Airtel network.
Each of these activities carries specific number of entries into the raffle draw and the higher the number of entries earned, the higher the chances of winning. The Paper and Electronic recharge will award entries ranging from 1 entry for N100 recharge to 50 entries for N5000 recharge. Each Talk more purchase earns the customer 10 entries, likewise Data bundle purchase or recharge. Daily 5X target qualification gives 10 entries, same for customers activating new Airtel SIMs as well as those purchasing new Airtel Handset Bundle Offers.
A major distinguishing feature of the promo is that customers carry over accumulated entry points every day throughout the promo so that they can enhance the possibility of winning with every passing day.
According to Chief Operating Officer and Executive Director, Airtel Nigeria, Deepak Srivastava, "Red Hot Promo will lift a large number of Nigerians into instant millionaires while others will step up the social ladder with the unique smartphones and also enjoy free talk time to friends, family, business associates and loved ones".
"With this promo, we designed a reward-driven initiative where every single customer who participates will be instantly rewarded as we seek to reinforce Airtel's vision of being the most loved brand. Besides, this is another way of showing appreciation to Nigerians, especially Airtel customers for patronizing our brand", he said.
The Airtel Red Hot Promo, which runs for 60 days is open to all prepaid and Zero Credit limit post-paid customers.