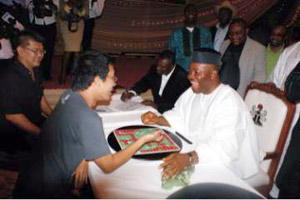 Governor Godswill Akpabio playing scrabble with the world champion, Pakorn Nemitramansuk from Thailand.
Godswill Akpabio International Scrabble Classics has been adjudged as the best Scrabble competition in the world, so says the Chairman of the World English Language Scrabble Players Association ( WESPA ) Mr Elie Dangoor.
In a Goodwill message addressed to the President of the Nigeria Scrabble Federation Chief Toke Aka and sent to the organizers of the Classics which enters its 7th year this Wednesday   in Uyo, Mr Elie Dangoor described the Classics as "prestigious"
"The big names that are earmarked for this event are testament to the stature it carries in the scrabble world. The icing on the cake is the rapprochement between the top players and the officials in charge of our beloved game in Nigeria " he wrote.
He added that "….things are always best when every one works together, and it is important for everyone to recognize the commitment and dedication it has taken both officials and players to bring scrabble to such great heights in Nigeria and the wider African continent. It takes two to tango and that is not less true here than anywhere else."
The Scrabble big gun who is looking forward to his Uyo visit, ended his goodwill message by thanking Governor Godswill Akpabio "…….for keeping Scrabble in his heart and long may this continue" He prayed.
The Godswill AkpabIo International Scrabble Classics( GAISC ) was in 2012 rated as the most Prestigious Scrabble Event in the world, with a whooping star prize of (USD 15,000) as against the Kings Cup, with a star prize of (USD 10,000).
This makes the GAISC, the biggest and only scrabble event, that Nigel Richards has been unable to attend and triumph as the World Scrabble Champion, hence his decision to appear in Uyo this year.
In 2012, being the 6th edition of the GAISC, Pakorn Nitremanasuk, won the GAISC for the first time, after 2 attempts, where he placed 3rd position twice.
It was actually in 2009, after being humbled at the 3rd edition of the GAISC, that Pakorn stormed the scrabble world, to win the world scrabble championship at Malaysia.
It is still on record that after 6 editions of GAISC event, no scrabble player has been able to win a double at the event.
Whether this feat will be erased in Uyo from Wednesday is left to be seen.