By EVELYN USMAN
LAGOS — Emotions ran high, yesterday, at the 81 Division Headquarters of the Nigerian Army, Victoria Island, Lagos, as widows of military personnel killed by members of the Boko Haram sect last month in Maiduguiri, Borno State were presented a cheque of N1 million each.
The widows, numbering 12, majority of whom were between 20 and 30 years, including their children,  broke down in uncontrollable tears,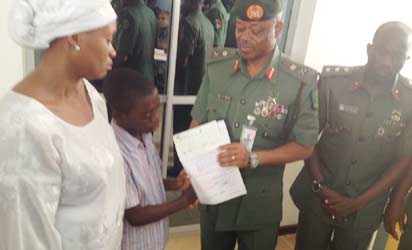 Presenting the cheques, General Officer  Commanding, GOC, 81 Division, Major General Abel Umahi, said the compensation was from the Borno State governor, Alhaji Kashim Shettima, as part of  succor to cushion the effect of the loss on their next-of-kin.
Describing the moment as a solemn one, he said the deceased soldiers from the 174 Battalion died in active service so that majority of Nigerians could live in peace.
He said aside the N1 million compensation by the Borno State governor, the Nigerian Army had undertaken a number of things such as payment of benefits accrued to the deceased as well as taking responsibility of the deceased's children academic pursuit, particularly those  below 18 years.
He assured that the Nigerian Army would continue to do all within its powers to comfort the bereaved families.
GOC warns  extended families
Advising the widows to use the money given to them wisely, Umahi, however,  cautioned extended families not to arm-twist the widows of their benefits.
"Widows and children of the fallen soldiers are targets of this gesture. It is meant for wives and children, not for extended family members. The money should be used to carter for the need of the wives and children of the deceased. It is not for burial because the Nigerian Army had taken care of all the burial responsibilities."
He also warned that the beneficiaries should not be stampeded out of their respective barracks accommodation.
The slain soldiers are Captain A. I. Oshoga, N/13977 of 174 Battalion; Sergeant Sadiq Ominisi with  Force number 95NA/40/4750 of 174 Battalion; Corporal Olafimihan Akeem, 92 NA/33/1698 of 9 Brigade; Corporal Sabo Mijinwaya of 9 Brigade; Corporal  Moses Sylvester 97NA/44/3971 of 9 Brigade; Lance Corporal Umar is a 97NA/45/7655 of 9 Brigade; Lance Corporal Michael Ike  of 9 Brigade; Lance Corporal Nwabunwane Monday of 81 Division.
Others are Lance Corporal  Kabiru Mairiga of 81 Division Garrison; Lance Corporal Job of 81 Division Garrison; Private Ephraim Ebimine and Private Ndah Mohammed.