By Simon Ebegbulem, Benin-City
The crisis between the mother of the stowaway teenage boy, Mrs Evelyn Oikhena and her husband, Mr Osaigbovo, deepened last Monday, when the latter appeared at the Edo State Government House during a scheduled meeting between Governor Adams Oshiomhole and the family.
Ever since the incident, the father was never in the picture until last Monday. Governor Oshiomhole met with the stowaway boy, Daniel with a view to have insight as to why he decided to embark on what many could describe as a suicidal trip. Officials of the Ministry of Women Affairs were also in attendance.
But before the meeting took off, Mr Osaigbovo told newsmen that his wife decided to deny people access to him since the incident started, explaining that he decided to leave the house where he resided with the family after the wife refused to move to another apartment which is affordable for him. Forty-four year-old Osaigbovo,a driver by profession, told journalists that contrary to reports that he was sick and bed ridden, he was living separate from the family due to his disagreement with the wife.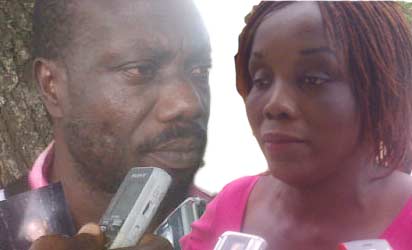 He stressed that the wife refused to stay in the house where he could afford the house rent, therefore, he decided to leave and stay alone in order not to go into criminality. He disclosed that he moved out of the house a year ago to stay where he could afford , adding that " I decided to come here today to tell the world that I am the father of Daniel. Initially, when I heard the news, I thought my son was kidnapped. But my wife said I should calm down that when everything is okay, she will call me.
I never dreamt of going to America, I am not married to another woman. My wife refused to give my number to Sthe DSS.  As a result  of my low income job, I decided to move to an apartment that I can afford and told my wife that they should move with me, but she refused and continued to stay in the three bedroom flat at 7, Ehigiagbe, off Goodwill, Ekenwan Benin City".
Mr Osaigbovo who said he resides at Siluko Road,  narrated that "I used to pay the school fees of my children and feed them contrary to claims that I abandoned my family. It was when I packed to the present place I am staying that my wife refused to go with me". He further accused the wife of making it look as if he was dead by denying people access to him.
Saturday Vanguard learnt that since last Monday, the crisis in the family deepened as the family of the man accused the wife of denying them access to the son.
Mrs Evelyn cried to Saturday Vanguard that she was still shocked with the way and manner the husband and his people are persecuting her despite what she has gone through recently with the disappearance of Daniel who was later found in Lagos. According to her, "my husband has been disturbing me and accusing me wrongly. There was no time I told anybody that he was dead. All I have been battling with is to sort out my son's problem.
And as we are talking now, I am even struggling to get N40,000 for my daughter to go back to school and I told my husband to assist because she is equally his daughter but he said he does not have. My daughter has to go back to school.
I don't know why all these things are happening. They thought they gave me money. He does not even care about the welfare of his son. They just came to bother my life".
A close family source who does not want his name in print told Saturday Vanguard, "this is a disgrace really. This woman has been taking care of their four children for over one year now that the man left the house but suddenly, he appeared thinking that government will give them money to share.
The man does not care about the children. Since this incident happened, he didn't come around. He only came when he heared that the Governor invited the boy and the mother. He decided to come because he felt the Governor  would give them money. We learnt that ever since they visited Government House, Osaigbovo has been bothering the woman because he thought they gave her money. And it was even because of the fatherly care that the boy lacks that made him behave that way.
They were left only with their mother and even if any benefit or help is coming from the government, it is the mother who has been suffering with the kids that should benefit and not somebody who wants to reap where he did not sow". Saturday Vanguard learnt that Mrs Oikhena may have to report the matter to the Ministry of Women Affairs if the husband continues to bother her.