By Uju Mbanusi
The alleged sexual molestation of a 10-year-old girl (name withheld) at Abraham Adesanya estate, Ajah-Lagos, by a tanker driver simply identified as Edward, believed to be in his late 30s, is currently raising dust as the victim's father has cried out against the 'unsatisfactory' manner the case was handled by the Police at the Ogombo Police station.  He alledged he was being forced to drop the charges on the grounds that it was a "minor offence", and that there was no "penetration in the course of molestation".
According to information made available to Crime Guard, the incident occurred on Friday,  September 13, 2013, at about 9pm; when the victim, a primary six pupil, was asked by her mother to get a  'step-down'(an electrical appliance)from their residence within the vicinity of her parents' restaurant. On her way back, she saw Edward, a regular caller at her parent's restaurant, a stone- throw from their home; she narrated what transpired.
"Edward sat on a pavement in front of the second gate to the compound where he lives. I greeted him and he acknowledged, as I walked past, he said I should get closer and greet him properly. I told him I would not, because my mother warned me not to stay late; but I noticed he got up from where he sat and walked towards me; as I made to run, he pursued and caught up with me,and dragged me to the pavement and sat me on his laps.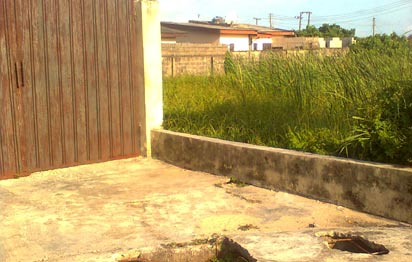 He told me I was all grown and beautiful, that my father must be spending so much to take good care of me; then he pulled my face and kissed me, telling me to relax that he was not going to harm me, that he would take good care of me. He then inserted his finger into my private part. All the while, I struggled to extricate myself from him to no avail; I was afraid.
I prayed help would come my way through a passers-by, but no one did. Then, I summoned courage and screamed…and let go of me, that was how I ran away, crying  that I would report what he did to me to my father. As I ran I heard him calling after me, 'come and take some money, so that you don't report me to your father'; but I increased my speed and ran as faster to our restaurant, where I met my parents and reported what happened to me," she said.
The victim's father identified as John Inalegwu from Benue State told Crime Guard that he was discussing with some friends outside his restaurant when his daughter ran past me and went her mother crying, and narrated something to her. Sequel to this,  I excused myself from my friends to  ascertain what was the matter, when her mother brought her to me; I calmed her down, after which she narrated what happened to her. Strange! I was furious; how could 'Yellow',a regular customer to our restaurant do that to my daughter? He was  very friendly with my children? I asked.
"Luckily, two Police officers attached to the Abraham Adesanya Police Out-Post were having a meal at my restaurant at that time, I reported to them and my daughter led us to the spot, where we met 'yellow' and he was arrested and detained at Abraham Adesanya Police Out-Post.  He did not deny the accusation, but told us to temper Justice with mercy, as the incident was as a result of the 'devil's hand-work'. We were advised to go and get a medical report, and we did, the report further confirmed that he committed the crime", he said.
Crime Guard also gathered that the culprit was later transferred to Ogombo Police station Ajah, where he was detained for three days. Unfortunately, father of the victim is suspecting that the case stands the risk of being struck out from the Police station, without his consent.   The 40 year old Oturkpo- born restaurateur continued, "On  September 17, I went to the station to find out the state of the case,  I was surprised to discover that the verge of being withdrawn from the station. As a matter of fact, I was ordered to drop the case because, according to them, it was a minor offence as there was no 'penetration', also that the accused pleaded with them that the case be settled out of the Police station, a resolution I found ridiculous, I want the necessary steps taken, and justice done. How do I explain to my 10-year-old daughter that the man who molested her has been freed by the Police without trial on the ground that he did not penetrate her?  Is this how the law operates? Is this how we were suppose
d to protect our children and vulnerable ones? We are making moves to get a lawyer, and also to transfer the case to Ajuwa police station where we hope to get justice," he stated.
A neighbour at the estate who spoke on condition of anonymity told Crime Guard that the Bayelsa State- born tanker driver, whose wife and grown children lives in another part of Lagos, was known in the neighbourhood for molesting minors, patronising women of easy virtues and chasing after married women.  "He had no respect for anybody; he has a mattress placed behind the passengers seat in his truck, where he lays most of his victims.  He is notorious in this act; I think he should not be let loose just like that, he needs to be brought to book. Otherwise, he might relocate to some where he is not known and continue with this; I am scared over the fate of our daughters and wives," he lamented.