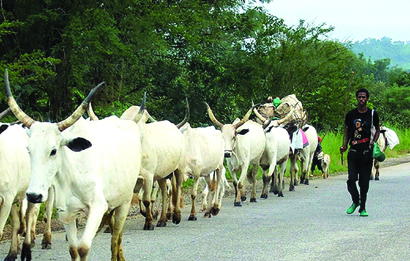 *Cattle
By Hugo Odiogor
….speaks on the role of NBA…
The activities of Fulani herdsmen in Delta State has become a source of concern and  have become a major threat to lives and property of the host communities in the State.  Fulani herdsmen have been attacking  farmers, destroying their crops, raping their women while killing those who challenge them in the process. They have also been involved in various acts of transit robberies at different axis in the state. In this interview with Saturday Vanguard, Delta State Commissioner of Police, Mr. Ikechukwu Aduba, speaks on the challenges of containing the menace of the Fulani nomads and kidnappers in the State. Excerpt:
What is the police in Delta State doing to contain the activities of these Fulani herdsmen which have new source of security worries for Deltans?
I must say that these Fulani nomads are a problem. Since my arrival in March last year, we have been having problems with them. But, it has been contained. I have to say that we cannot count the number of them that we have arrested for armed robbery. Some of them, particularly along the Ogwashi-Uku axis that you are talking about, have been hit fatally in crossfire with the police, Along the Kwale-Nsukwa axis too, especially where we have Obasanjo Farm, there have been problems too with these nomads.
The problem is how do we contain them? Especially with their peculiar mode of operations. The way this people operate is amazing, they will strike within five and six minutes and disappear. We have what we call visible security patrol. If you travel from Asaba to Agbor, up to the point where we have boundary with Edo State, we have no less than six patrol vehicles. But the way these herds men operate is baffling. There is no way the police can be everywhere at the same time.
That is why we have been telling communities along these axis that they have to co-operate and collaborate with the police to tackle the menace of these Fulani nomads. The idea of the vigilante security is borne out of the realisation that we cannot rely on government to do everything for us.
Some of these communities are supposed to have vigilante groups, but sometimes we wonder what these vigilante groups are doing?. They are supposed to be part of the grass root security network.
I am an indigene of Onitsha, and I contribute my monthly vigilante dues to my town, even as a Commissioner of Police. It is the vigilante group that guards my home in Onitsha, not the police, even though I am entitled to it.
So, those who are not in the vigilante group, can support and encourage the vigilante team by contributing their stipends to sustain the existence of such groups because they have become part of the grass root security network. The communities have to be part of the effort to tackle the menace of these Fulani nomads, especially those that invade villages from outside the state.
The problem that we have is that those who come from outside the State come with rifles. Like few weeks ago, we raided the cattle market in Asaba, close to the airport, we made some arrests. They come in the night and wreak havoc, and disappear in the morning. Those that are resident are good because they know that they would be caught.
For sometime now, I have been advocating that we need a task force that will consist of leaders of these nomads, and their host communities, the military personnel, police, legal experts. Their job will be that where ever these herdsmen are sighted, they should raise an alarm. When this is done, we can then monitor these criminal elements that come at night to wreck havoc and disappear . As soon as they enter into the state, the task force will track them and raise alarm for the police to step in and arrest and confine them for interrogation. That is the only way we can check them.
We had complaints from the Obi of Onicha Ugbo that these Fulani herdsmen have been raping women, preventing people from going to farms, while there have been open confrontations at Ogume and Ibusa, what is the situation now?
I can recall that we had a problem in Onicha-Ugbo where one of the robbers, a Fulani man was involved in a robbery and almost raped a woman. The situation almost degenerated into communal conflict as the youths of the town were about to riot. We waded into the situation and peace was restored. The Onicha Ugbo people have elders here who have been collaborating with us.
In Ibusa, we arrested one of them and we got information that one of them was receiving treatment for bullet wounds in Onitsha. We went there and picked him. He was arraigned and remanded in prison custody. The meti-allah assisted us to arrest them. Again, along the Ogwashi-Uku axis that we are talking about, we arrested two of the Fulanis who were trying to buy bullet but they went to the wrong person who reported them and they were caught. They too were arraigned and remanded in prison custody.
We are not relenting, but we need information. Like the case of Ogume that you mentioned, yes, these nomadic Fulanis attacked there and some lives were lost. What we recovered were locally made shot guns. Double barrel shot guns. We arrested two of them that were trying to buy bullets for AK 47, we got them. We got information that some of these kidnappers do rent weapons to these robbers. There are some of them that are on the run that we will declare wanted. About two of them are on the run.
At the bridge, they attacked a policeman and almost killed him. We were lucky we recovered the arms. Recently, we held a security summit in Oghara when the Governor Emmanuel Uduaghan made it clear to the leadership of these herdsmen that the government will no longer tolerate such violation of the safety and security of indigenes and communities, and we are committed to ensuring that these security breaches are contained.
The menace of these Fulani herdsmen seem to be all over the country, what do you think should be done to curb this emerging security threat?
I think the time has come for the National Assembly to muster the political will to pass a law creating grazing fields to reduce the conflicts arising from the activities of those nomads. All over the place, there is almost a state of war from Rivers to Benue, from Imo to Delta, all over the country. These rampaging nomads are causing havoc, destroying the economic livelihood of their host communities. They say they are looking for cattle routes. How can you talk of Cattle Routes in this millennium which may pass through some one's land.
Creating grazing centres is a sign of development. It could be source of revenue for government. In plateau State, we have grass in abundance, carry your cattle in a lorry, take them to the grazing fields, veterinary doctors will come there and treat them. You pay instead of allowing the cattle to roam everywhere, it will continue to create conflict between the Fulanis and the farmers.
We have to create grazing areas where they can take their cattle to graze and they are closely monitored. We have abundance of land where we can create grazing lands. Creating grazing lands will ensure that the animals are not allowed to roam the streets. It is also a sign of development. The owners of the animals will take them to the fields for grazing and veterinary doctors'attention. Government can extend treatment and medical extension services to them in such places.
It could even be source of revenue for the government. I remember that in one of the town hall meetings that we held in Warri, some of them said that some of the cattle belonged to top politicians. These animals should be kept in confinement. They should not be allowed to roam the streets or go into the villages or to the farm lands to destroy the economic crops of farmers. This has been a source of conflict between the Fulani herdsmen and farmers in different communities.
What is the situation with the case of Mrs. Mokobia who was abducted by kidnappers at her home in Abraka?
Honestly, we are doing everything that we can to crack that case. When I went to address the ASUU chairman at Abraka, I made it clear to them that we are not relenting on that case. Removing a woman with only night gown, from her bedroom in the middle of the night is satanic. We went after them and and within one week, we got the ring leader and other members of the gang. Awo as he was known and called happened to be from a crime family. We traced the ring leader to Benin and discovered that his grandfather was a hardened armed robber in Benin.
We have done everything to extract information from them, but these people are hardened criminals, they are on oath not to give out any information. On one occasion they agreed to take us to the location where they were holding the woman, but unknown to us, they had laid ambush and there was a crossfire, some of my men were hit fatally. We also lost four of the kidnappers. One of them who is a pastor is facing trial. But we have received several petitions accusing the Police of indulging in extra-judicial killing over this issue.
Those writing these petitions have not shown concern for victims of these criminals or to the families of our men whom we lost in the ambush organised by the collaborators of the kidnappers. I recall that in one of the interrogation sessions, the husband of the woman was around and he witnessed our attempts to get the ring leader to tell us where they were holding the woman. I can understand the agony of the husband and the family of the woman who was taken away from her bed at night, just in her night gown.
It is also a lesson to everybody to know how to engage people to work for them at home. Our investigations revealed that it was the plumber she called to work for her that organised the kidnapping of Dr. Mokobia.
What is your reaction to the resurgence of members of NBA taking up briefs from suspected kidnappers?
It is strange and I dare say that even lawyers are also prime targets of these kidnappers. I also feel surprised because I am aware that NBA in Delta took a decision not to defend these criminals. But now, we are seeing lawyers especially in Warri area, coming out in large numbers to defend the criminals. There is even a case that we are investigating, a house where kidnapping operation was planned, we stormed the house and recovered part of the ransom money, and the weapons used to organise the operation.
There is a law in Delta State, that any facility that was used to organise such an operation should be brought down. We did not make the law, we only provide physical security when such facilities are to be brought down. Now we have petitions from lawyers trying to obstruct justice, it is a major challenge to fight crime in this type of situation.