Calabar – James Sangala, captain of the Flames of Malawi, said on Sunday that Super Eagles' ability to play with full confidence gave them victory in their meeting on Saturday in Calabar.
Sangala said in Calabar as his team headed back home that they still gave a good account of themselves even though they lost the game.
Malawi lost 0-2 to Nigeria in the Africa Zone Second Round Group F Matchday Six fixture of the 2014 FIFA World Cup Qualifiers.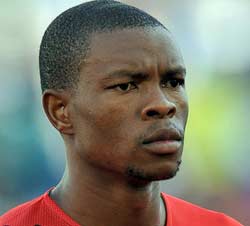 The match was played at the U.J. Esuene Stadium.
The Malawi captain said their match plan was to win the game so as to top the group, and they were confident they were going to win.
"The defeat has come as a surprise to us, because we were very confident that we were going to win the game.
"According to the plans we made for this game particularly, we believed that we were going to carry the day.
"But I think we allowed everything to slip out of our hands, after we conceded that goal close to the end of first half.
"That's the only thing that let us down. Because Nigeria came out in the second half with full confidence because they were one goal ahead and we needed to score two goals to be ahead of them,'' he said.
Sangala however said it was not easy playing against Super Eagles strikers.
"These are clever players with huge talents, and it was not easy containing them. But we managed and tried our best to contain them.
"On some occasions, they broke through and were face-to-face with our goalkeeper,'' he said.
The Flames captain nonetheless praised his colleagues for putting up a good fight against the Super Eagles, in spite of losing to their hosts.
NAN reports that the loss ensured the Malawians ended second with seven points in the group, five below the Nigerian side which went ahead to advance to the qualifiers' final round.(NAN)