By Evelyn Usman
Dead silence pervaded the conference room of the 81 Division Headquarters located on Kofo Abayomi, Victoria Island, Lagos, Monday, with sad expressions on the faces of seated guests.  Majority of the guests, later discovered to be widows of Army personnel killed by  Boko Haram sect in Maiduguiri, Borno State last month,were within the age bracket of 20 and 25.
Some of them snuggled close to their children as if their existence depended solely on them, while others merely gave a blank stare , apparently lost in unimaginable thoughts .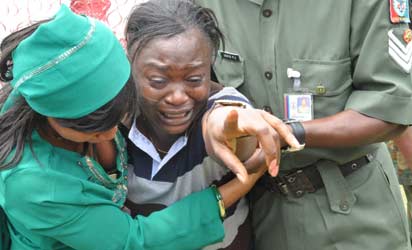 Crime Guard gathered that the gallant soldiers were taken unawares by terrorists that fateful morning of August 4 2013, with the use of  Improvised Explosive Devises (IED),while at the verge of preparing their breakfast. Although they had been buried in Maiduguiri amidst uncontrollably tears from relatives, the vacuum created by their demise would, no doubt, remain in the hearts of their widows and children.
The height of the solemn moment at the conference room of 81 division erupted at the arrival of the General Officer Commanding the Division, Major General Abel Umahi, who was to present a cheque of N1million each to the next-of-kins of the deceased personnel .   Immediately he called out the first beneficiary, the widow burst into uncontrollably tears, followed by others.
Journalists present could not help but dab the tears that trickled down their cheeks.   Just before the presentation, a man who was apparently recuperating, walked in slowly and  took position among the beneficiaries. When the name of his son, Lance Michael Ike was mentioned, he could  not help but  betray his emotion. His wife who was also present, cried uncontrollably as their late son's wife went to  receive the cheque with her son.
The 60-year-old man who identified himself as Mr Moses Ike, disclosed that the family was yet to recover from the rude shock of Ike's demise.  According to him: " he was my first child. There is nothing as terrible as being alive to witness the death of one's child," he said shaking his head.
The late Ike, a Lance Corporal who was enlisted into the Nigerian Army 13 years ago, was reportedly preparing for his wife's traditional marriage. " He had already bought things needed for the marriage. He had gone for the first round of traditional rites with the hope of concluding everything upon his return from Maiduguri," the bereaved father disclosed.
His children are still demanding to see daddy
Meanwhile,the late Micheal's children of ages 3 and 1 respectively, as gathered, are still demanding to see their daddy.   The day Micheal was leaving his apartment in Mayoung barracks, Yaba, four months ago, he was said to have promised his children whom he loved and cherished so much that he would buy them  chocolate on arrival. Unfortunately, he never lived to fulfill that  promise.  The children never stoped to ask after their father. Every time, they would be asking their mother, ' where is daddy? When is daddy coming back home', a question that usually threw their mother into another round of tears.