By Victoria Ojeme
ABUJA—OUTGOING Minister of Foreign Affairs, Ambassador Olugbenga Ashiru, Thursday, said he secured the appointment of 22 Nigerians into international positions in two years.
He, however, regretted that the performance was two positions short of the 24 he hoped to achieve during his stay in office.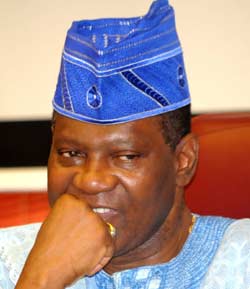 Ashiru, who was sacked alongside eight other ministers by President  Goodluck Jonathan, Wednesday, said the appointment of commissioner for political affairs in African Union and commissioner for peace and security at the ECOWAS commission, came about as a result of his efforts.
He added that under his watch, Nigeria's Foreign Direct Investment, FDI, hit $8bn in 2012, while Foreign Direct Remittances from Nigerians in Diaspora was $22 billion.
Speaking at the hand over ceremony to Acting Minister and Minister of State 1 for Foreign Affairs Professor, Viola Onwuliri, in Abuja, Ambassador Ashiru said he and two other ministers decided that all the names of officers of the ministry from level 17 should be submitted for appointment as ambassador in order of seniority.
According to him, this was to further achieve his determination to ensure appointment of more career diplomats as ambassadors.
Speaking with journalists after the hand over, Ashiru said he had the vision of seeing more career diplomats appointed as ambassadors.
He said, "I am leaving foreign ministry as a fulfilled man considering my achievements in just two years," stressing that his other achievements included signing of diplomatic instruments of bi-national and joint commissions, collaboration and engagements with neighbours, joint border security arrangements, resuscitation of regional seminars for heads of mission, among others.
Ashiru urged staff of the ministry to extend the hand of fellowship and support given to him to his successor and thanked President Jonathan for the opportunity given him to serve the nation.
Earlier, Onwuliri appreciated the outgoing minister for his contribution to the ministry, adding that she would not be surprised to see him in few days serving the nation in another capacity.
She said Ashiru changed the fortunes of the ministry's staff during his tenure, which they would all live to remember.