KADUNA — Residents of Abubakar Kigo Road New Extension, Kaduna State, Wednesday, said about 100 houses were submerged in the area following about 14 hours of rain.
The rain started at 10p.m on Tuesday and ended at noon,Wednesday.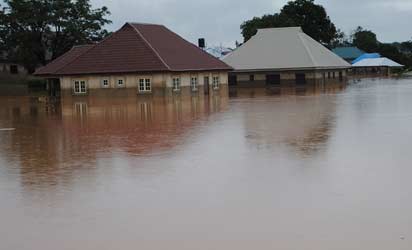 It disrupted movement and flooded some areas of the city including Tudun Wada, Expressway and Rigasa.
Mrs Esther Okpala, a resident of Kigo Road, told NAN that she evacuated her family but her property were submerged, adding that she did not go to work to safeguard her property.
Okpala said she had been in the house for more than eight years but that the problem of flooding started in the area four years ago.
Another resident, Alhaji Umar Musa said people had been moving out of the area for fear of the flood.
According to him, most children did not go to school because the flood has covered the access road to the area.
In Rigasa, the bridge on Makarfi road was submerged forcing motorists to wait for hours before getting across into the city.
North West Zonal Coordinator of National Emergency Management Agency, NEMA, Musa Ilallah confirmed that several houses in Tudun Wada, Kigo road, Rigasa and Express Way were submerged.
He also said officials of the agency had been dispatched to Birnin Gwari, where several villagers were reported to have been "trapped by flood."
Illalah said there were no casualties yet, adding that the agency was still compiling details on the number of people, houses and property affected.