BY JOSEPHINE IGBINOVIA
She started out humbly as a classroom teacher in the 80s and today she's one of the influential women in the National Assembly of the Federal Republic of Nigeria where she represents Kaltungo/Shongom constituency of Gombe State. Hon.(Mrs.)Binta Maigari Bello currently Chairs the House Committee on Women in Parliament-WIP. A rare politician who has successfully combined politics with gentility in a notoriously violent political sphere such as Nigeria's,  Binta's passion for community service dates back to her days as a child when she dreamed of alleviating the sufferings of her people each time she visited the village with her parents.
A one-time Gombe State Commissioner for Women Affairs and former Acting Commissioner for Ministry of Youth Development, her last assignment prior to joining the National Assembly in 2011 was as Deputy Chairman, Shomgom Local Government of Gombe State. Vista Woman had a chat with her recently.
Weak mentoring system has been identified as a major factor against women's political progress; what's the WIP doing to address the situation?
We are also very worried about the low representation of women in elective political positions. The agenda in 2011 was to achieve at least 20%, but we couldn't. Currently, we have below 10%, and that's very devastating. So, we're trying to see how we could organise ourselves and galvanise towards 2015 so we could raise the representation above 15% if not above 20%. The committee is engaging in advocacy, mentoring and empowerment because younger women need to be taught to believe in themselves first of all.
In my own constituency, I'm trying to see how I could impact women with good education. Presently, I have a yearly scholarship programme in place for 300 university students. I've also set up a free ICT centre which I affiliated to the Gombe Federal College of Education, to enhance the certificate. Now, graduates of the ICT centre get their certificates from the Gombe FCE and this strengthens their chances of securing employment wherever they go to seek for work. We graduated the third set of students recently in July. Cumulatively, over 240 students have graduated from the ICT centre.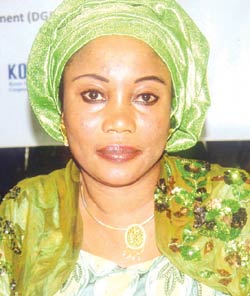 Apart from constituency projects, how are you personally giving back to your community?
Personally, I've constructed blocks of classrooms in some schools. I've distributed over a hundred beds with mattresses and other accessories to hospitals. I have also launched other women empowerment programmes to support the eradication of poverty amongst rural women. Already, I've put in place four skills acquisition centres in different locations, which make it easier for women and youths to acquire vocational skills.
As an experienced politician, what words of wisdom would you give to younger women?
Every woman should be determined and focus on what she wants to achieve. Money is not everything; goodwill is the best tool and recipe for a woman to stand and succeed in politics. If you believe money is all you need, where do you hope to get the money from? From men? They too want to be where you're aspiring to get to! The best thing is to organise yourself, keep jealousy aside, unite yourself with other women and set your mind on what you want to achieve.
Female politicians usually say their political mandates were stolen by their male counterparts; how difficult was it for you to get elected into the parliament without being cheated?
Who gave the votes? Women and their children did! So, why should it be a difficult one? Women need to know their rights, understand that they dominate everything and also know that they have the power to put whoever they desire into any political office because their votes form the majority.
What was your own experience during election?
If I say I was not well treated by my people, then I'm not grateful to them and to God. If religion could stop someone from getting a seat, I wouldn't have been able to represent my constituency because I'm a Moslem while 90% of my constituency are Christians! After the post-election violence in 2011 and three cancelation of election, I still found myself where my people wanted me to be. That's why I always say goodwill is the best tool for politics! When your people know you have their interest at heart, they will always stand by you.
What's next in line for you?
I'm still very much in politics. Only the future can determine what new line to toe just like how I came into politics; I never planned to join politics. My people actually urged me into it. When I came in, I met lots of obstacles like some opponents accusing me of marrying from Yobe State. I made them understand that my marrying from another tribe wouldn't stop me from giving them their legislative rights. I'm happy every challenge eventually turned into a blessing.
Initially, what were your dreams as a child?
I simply wanted to become a philanthropist. I actually didn't have any profession in mind! I had passion for people and each time we went to the village, I told my father that if I had the opportunity, I would want to do something to touch the lives of my people. When I eventually became a Grade II teacher, the first time I had about N250,000, I went to one of the secondary schools in which I had been seeing people suffer during the rainy season and I told them I wanted to renovate their classrooms.
Somebody however advised me to start a structure for the school instead, and that wherever I stopped, somebody else would continue. I started the building eventually, and was gradually able to complete it after a while. It was however hectic. After I had furnished and commissioned the building, people went about sabotaging and reporting me to the then governor that I was trying to outshine him. At the end of the day, the governor invited me over and after speaking with me, he was able to understand where I was coming from and what I wanted for the poor. Everything eventually became a blessing for me, and that incidence triggered  my invitation into politics.
Let us into your background…
I was born in Ibusa in Delta State, but my family later moved to Ondo State where I attended Costain Primary School from 1978 to1983. My father was in the military and we were often on transfer. I started secondary school in Kaduna State but completed it in Gombe State in 1988 at the W.T.C Bajoga. I was among the last set of Grade II teachers. I bagged a Diploma in Public Administration in 1995 from the University of Jos and later on, I did a degree in Public Administration at the University of Maiduguri.
Subscribe for latest Videos