By Awa Kalu, SAN
ACCORDING to Voltaire [Francois-Marie Arouet; 1694-1778] French writer and philosopher, The Oxford Book of Death (D.J. Enaight) 'the human race is the only one that knows it must die, and it knows this only through its experience. A child brought up alone and transported to a desert island would have no more idea of death than a cat or a plant'. Fairly interpreted, Voltaire is certain that you must be human to know that another human being has died.
What then was the 'breaking news' on the 6th of August, 2013? You do know of course that Justice Obiageli Regina Nwodo, (now to be remembered as a Justice of the Court of Appeal) departed this sinful world on that date! Please answer a simple question, what was she to you? Was she 'My Lord", 'Oby', 'Obiageli', 'Mummy', 'Darling', Obidia of Ukehe', 'Ezinne 1 of Nsukka' or did you identify her by any other epithet nor title ? Calm down, for she has run the good race and has passed the baton to her survivors.
It is this stark reality that compelled yet another philosopher, also French, Jean-Jacques Rousseau, to caution that 'He who pretends to look on death without fear lies. All men are afraid of dying, this is the law of sentient beings, without which the entire human species would soon be destroyed'. Jean Jacques-Rousseau did not last too long himself and lived for 66 years only (1712-78) but his words ring true till today.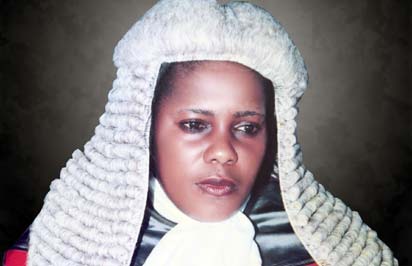 But if we forget those words, we cannot, as Christians forget the abiding lyrics of the celebrated Hymn, "Only Remembered' by Sankey Ars. J. Tams & H Brough to the effect that 'faded away like the stars in the morning, losing their light in the glorious sun- Thus would we pass from this earth and its tiding, Only remembered for what we have done'.
The hymn reminds us that only the truth we have spoken, only the seed that in life we have sown, these shall pass onwards when we are forgotten, only remembered for what we have done'. Then, the hymn further questions us – 'who'll sing the anthem and who'll tell the story, will the line hold will it scatter and run, shall we at last be united in glory, only remembered for what we have done'.
All those who mourn will tell the story of our sister, our wife, our colleague, our mother who has gone. Her story is one that must be told because there are people who remember her resounding educational background; her illustrious parentage having been born with a silver spoon; and her transition to a silver spoon family. Her LL.B class of 1982, her Law School class of 1983, her colleagues as State Counsel, as Magistrate, and as a Judge both of the High Court of Enugu State and the Federal High Court must join in telling the story.
For us as Lawyers, the story of a judicial officer especially at appellate level where she last served, is best told by the officer's word indelibly bound in the Law Reports. In that regard, when I read John's letter breaking the official news of his wife's departure, I summoned counsel to my office and asked randomly for Her Lordship's judgements backwards to 2011 only.
No matter how boring you find this short tribute, please note that her footsteps are firmly embedded in Olawepo v. Securities and Exchange Commission (2011) 16 N.W.L.R (pt.1272) 122 [lead judgement]; Babalola Borishade v. Federal Republic of Nigeria (2012) 18 NWLR (pt.1332) 347 (lead judgment); T.A. Dairo v. Federal Republic of Nigeria & Others (lead judgment); Malachi Brown v.
The State, (2012) 3 N.W.L.R (pt.1287) 207 (lead judgment); George Abi v. Central Bank of Nigeria (2012) 3 N.W.R.L (pt.1286) 1 (lead judgment); Prudent Bank Plc. & Others v. Abdul Malik Obadaki (2012) 2 N.W.L.R (pt.1285) 504 (lead ruling); Incorporated Trustees of Nigeria Association of General Practice Pharmacists Employers v. Pharmacists Council of Nigeria (2012) 2 N.W.L.R (pt.1284) 262 (lead Ruling); Dr. Muhammed Onujabe & Anor v. Fatimah Idris (2012) 2 NWLR (pt.1284) 285 (lead Ruling); Anambra State Govt. & Anor v. Gemax Int. Ltd. (2012) 1 NWLR (pt.1281) 333 (concurring); British Airways Plc. v. Michael Amadi (2012) 2 NWLR (pt.1283) 21 (lead Ruling); National Democratic Party v. INEC (2012) 14 NWLR (pt.1319) 176; (lead judgment); Hon. Ned Nwoko v. Jude Azekwo & Others (2012) 12 NWLR (pt.1313) 151 (lead judgment); Hon. James Biotech & Anor v. Hon. Salihu Shadafi & Others (2012) 13 NWLR (pt.1317) 396 (lead judgment); Ahlaji Sani Dododo v. E.F.C.C. & Others (2013) 1 NWLR (pt. 1336) 468 (lead judgment); and John Shoy International Ltd & Anor v. A.E.P.B & Others (2013) 8 NWLR (pt.1357) 625 (lead judgment) etc. A decent count will show that in a preponderance of the appeals on which she sat, it was her lot to anchor the judgment of the court. In legal circles, it cannot be doubted that this fact alone testifies either to her erudition or her industry or indeed, both. Having been born on the 1st of November, 1958 and departed in the month of August this year, she died a little short of the age of 55. Had she lived, she would have served this nation's judiciary for another 15 years before bowing out in retirement. What a loss!
The story of the late Justice of the Court of Appeal was resoundingly told at a special valedictory court session held in her honour at the Court of Appeal headquarters, Abuja, on September 24,  2013. The court session was presided over by the acting President of the Court, Hon. Justice Zainab Bulkachuwa.  The Chief Justice of Nigeria, Justice Mariam Aloma Mukhlar,  as well as several Justices of the Supreme Court, serving and retired, and of the Court of Appeal, were in attendance. Chief Judges of various High Courts, the President of the National Industrial Court and Judges of several jurisdictions thronged the ceremony.
The attendance of Senior Advocates in large numbers was a fitting testimony to the standing of the deceased in her lifetime. After receiving speeches from the Court of Appeal Acting President, the Attorney-General of the Federation, the President of the Nigerian Bar Association and the Body of Senior Advocates of Nigeria, the Acting President of the court, with the concurrence of four of her learned Brethren granted a motion praying for leave to remove the remains of the deceased from the well of the court for interment.
The widower of the late Justice Nwodo, Chief Nnia John Nwodo, made a moving response that brought many to tears.  She was known as 'humble, unassuming, prayerful, generous, compassionate and forgiving'. Her capacity for hard work has already been demonstrated and her ability to apply herself selflessly either as wife, mother, friend or Judge is beyond question.
What else can be said except to remind ourselves that a tribute is a speech given as an expression of praise, thanks, admiration, affection, etc., a sign or evidence of something valuable, effective, worthy of praise, a testimony, a grateful, affectionate or admiring acknowledgement made to a person. Yes, this is a tribute to My Lord, Oby in a fitting acknowledgment of her sterling qualities. Her dear Husband John, her children and all those who are mourning WILL REMEMBER You By ALL YOU HAVE DONE. Hon. Justice Regina Obiageli Nwodo, Adieu.