By Amaka Abayomi, Laju Arenyeka, Ekemini Eyoh & Josephine Mbaebie
"Upgrade your WAEC, JAMB and NECO results by calling this number…," the post on a popular website read. And our reporter did just that.
Posing as an unlucky candidate who had failed her Unified Tertiary Matriculation Examination (UTME), our reporter got the following response from the other end of the line: "Listen, I work with JAMB. I have been doing this for a very long time; do you know how many admissions I have processed for people this year alone? Don't worry, send me the details and leave everything to me, it will cost you N5,000. I am sure you can afford that."
Considering the dwindling state of education in Nigeria, it is no surprise that access to higher education now boils down to what one can 'afford'.
Whether legally through astronomically hike in fees, or illegally through mercenaries, education is becoming increasingly expensive and gradually slipping out of the common man's reach. Investigations carried out by Vanguard Learning reveal that education, especially at the tertiary level, has become a profit-oriented venture.
Vanguard Learning sought the views of students, lecturers and educationists on the alarming rate of fee increment in the country.
A student of the University of Calabar who pleaded anonimity, told our reporters that sometimes, students have to pay lecturers before they can submit their assignments and that, more often than not, buying a lecturer's textbook could be graded.
She said; "In my department, some lecturers will not allow you submit your assignment if you don't pay. My ex-roomate had to buy an expensive drink and pay about N8,000 to have her project topic approved. Education is expensive here. In addition to all these, we pay a compulsory sum of N20,000 for damages once in two years."
Beyond these off-the-record levies, many varsity students have witnessed an increase in fees that is not at par with the pocket of the average Nigerian.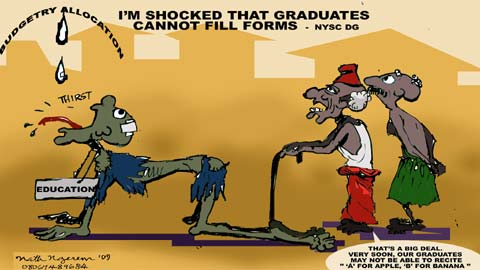 A student of the University of Nigeria Nsukka (UNN), Miss Pauline Oke (not real names) said: "As at last year, we were paying about N32,000, which has now been increased to N45,000." The Lagos State University (LASU), undoubtedly has the most dramatic report as far as fee hike is concerned. Before the 2011/2012 session, students paid about N25,000 as fees. However, with the new session, LASU students began to pay between N198,750 to N368,750 as fees.
To further buttress the high cost of education in the country, the coordinator, National Association of Nigerian Students (NANS), South-West Zone D, Monsurudeen Adeyemo, spoke against the hike on fees positing that the act is ridiculous and unfair to the citizenry.
"The increase in fees is what we are fighting against. We don't need the astronomically high school fees and that is what we have been telling the government. The government should ensure that education is free so that the common man can have it. It should not be denied the citizens, it is the responsibility of the government to educate her citizens."
Adeyemo further affirmed that education in the country is expensive because the government is trying to privatize the sector. He stated that the government is deceitful in its dealings with the citizens and suggested that a state of emergency be declared in the sector.
"The education sector demands a state of emergency. The government is trying to privatize education in Nigeria, that is why it is not funding it like it should. We need the government to be sincere. Let the government revitalise the sector and the economy will be stabilised."
Our reporter also called another mercenary who advertised his expertise in helping upgrade UTME and Post-UTME results. The respondent asked for the name of the school of choice as well as the scores of the students after which she replied that she would do the job. "Let me have the details of the results and choices of school then, leave everything to me. But it will cost you N15,000."
The reporter went further to ask if the respondent by chance worked with JAMB, and how feasible it was for an already released Post-UTME result to be influenced and the response was: "I am a married woman, I have been doing this for long so don't worry about that. I don't work with JAMB but I have people in JAMB who would do that for me. As for the upgrading of JAMB result, at the initial release of JAMB, the amount charged was N5,000 but I can't say for now until I speak with those in the office."
Results are not only 'influenced' after the exams, a lot of candidates for examinations such as the West African Senior School Certificate Examinations, pay outrageous sums to be placed in special centres where they can be coached in the examination hall.
The commercialisation of the education sector is also very good news for the private sector. Barely any private university charges less than N250,000 for any course of study and UTME, Post-UTME and diploma lessons are springing up from every corner.
'Clear all your papers in one sitting' is the slogan on the banners of many tutorial centres in the country.
Tubosun Awoshika, a coordinator with Citigenius, a tutorial centre in Yaba said that the major work depends on the students' capabilities but the teachers help them prepare by conducting tests.
"After the students register with us and lectures begin, we conduct test to determine their areas of weaknesses. After we discover a student's weaknesses, we alert the parents and sometimes such student gets enrolled for special classes. We don't 'help' our students other than that."
Meanwhile, speaking to students in private varsities on the rate of fee increment in their various schools, Bisi Oladipe a student of Crawford University said that "as at 2012, students paid N450,000 per session, but now the fees have been increased to N480,000, Vincent Eze in Igbendion University, Okada told Vanguard Learning that he paid N514,000 in 2011 "but all of a sudden in 2012/2013 session, it was increased to N643,000."
Some other private varsities and their fees include: Bowen University in Iwo – from N650,000 to N750,000, Babcock University – from N340,000 to N620,000, Achievers University – from N330,000 to N420, 000.
The Deputy Director (Public Affairs), West Africa Examination Council (WAEC), Mr. Ari Yusuf, recently warned candidates sitting for the on-going November/December 2013 West African Senior School Certificate Examination (Private) to be wary of rogue websites claiming to provide authentic questions/answers for the examination in advance.
"Such scams are not new to the Council as, over the years, old or fake examination question papers are usually circulated and sold by fraudsters as authentic current ones, at ridiculous or give-away prices. However, the Council first got wind of the internet form of scam back in 2011. The security agencies were subsequently duly informed about the rogue websites.
"Since then, the Council has endeavoured to routinely carry out investigations into these claims and wishes to state categorically that the claims on these rogue websites that authentic question papers or answers for its examinations can be procured in advance are completely false."