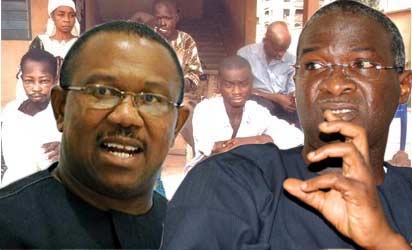 Anambra State Governor, Peter Obi and Lagos State Governor, Babatunde Fashola
BY OLASUNKANMI AKONI, MONSUR OLOWOOPEJO & ANOZIE EGOLE
LAGOS — TWO months after the controversial deportation of Igbo residents, Governor Babatunde Fashola, Thursday, rendered an unreserved apology to the Igbos over the July 24 dumping of some alleged destitute in Onitsha, Anambra State by his administration, saying, "the action of our government was misunderstood."
This came as President Goodluck Jonathan, deputy Speaker of the House of Representatives, Mr. Emeka Ihedioha, and Catholic Bishop of Sokoto, Rev. Matthew Kuka, urged Ndigbo to continue to chart new developmental cause for the nation.
However, speaking at silver jubilee symposium of Igbo think tank, 'Aka Ikenga,' at the Nigerian Institute of International Affairs, NIIA, Victoria Island, Fashola insisted that he could not allow differences on a subject matter tarnish the bond and friendship that were built overtime with the Ndigbo in the state.
Rev. Kuka who was the guest speaker at the symposium, had earlier accused the  governor of personally attending the event to settle differences with the  Ndigbo speaking community over the controversial deportation saga.
Responding, Fashola argued that his relationship with the Igbo remained solid and that many had misunderstood and misrepresented the actions of the Lagos State Government because of party politics.
According to him: "The truth is that I do not have a problem with the Igbos, they know that because the largest herd of cattle I received during my father's burial came from the Ndigbo. Those people who came under their many colours are not people I have a problem with, they are my kindred and my people.
"Also, there were people who did not clearly understand me and they have misunderstood words said or misrepresented actions taken in the way that it has pleased them to do so. To those people, I owe an explanation, not a defence of what has happened and that is partly why I am here.
"We have built a relationship based on tolerance, mutual respect, trust and love. That relationship was started by our ancestors, it was handed over to us and we have nourished it with a lot of trust, with a lot of understanding and with a lot of fidelity.
"Those who misunderstand that relationship, think that there is no value in that relationship I have come here to correct that because I place a lot of value on that relationship. If those people have misunderstood me or they have misunderstood actions taken by our government, here, now and today, I offer an unqualified and unreserved apology.
"Why should people feel compelled to migrate from one place to the other? Is there one part of this country that is less endowed whether in human or natural resource? Is that the problem? Is it the case that perhaps some parts are so endowed or not adequately managed?
"Those are the honest debates that we must have. The political storm is gathering and allusions have been made to the issues I address, not only by the chairman, but by the President of Ohaneze Ndigbo. How can development be so difficult in the part of Nigeria that gave us Ike Nwachukwu, Chinua Achebe, Nnamdi Azikiwe, Odumegwu Ojukwu, Alex Ekwueme and so on, how can development be so difficult in that part of this country? I think those are the real issues."
"I think we have been in the news of our relationship for  the wrong reasons in the last few weeks, but if you listen to the voices of those who speak the loudest, you would see that they do not speak about us, they do not speak about the problems, but about themselves. The majority of us are concerned about how to make it better, that is what concerns us always in Lagos, and it is not an easy decision for me." The pursuit of making it better makes us adopt policies which are always subject to the human text of fallibility".
Also, Jonathan who was represented by the Secretary to the Federal Government, Senator Anyim Pius Anyim, in his address, tasked the group to continue to chart a positive course for the Igbo race, which he said has preserved the enterprise, history, arts and culture of the Igbo nation.
Kuka in his lecture, said the Igbo race in Nigeria needed to cope with the excesses of globalisation which he said has thrown up many challenges and contribute its own quota to national development.
"The greatness of any nation today lies in its capacity and ability to manage diversities and welcome strangers. The Igbo are very much welcomed strangers anywhere. Despite the tragedies and misfortunes that we have, we still have a great nation to build, the final step of the greatness of our nation is where we place integrity", he said.
The event was well attended by notable Igbo politicians and icons including, Senator Ike Nwachukwu, who chaired the occasion, Hon. Emeka Ihedioha, Kanayo O Kanayo, Onyeka Onwenu among others.