By Ifeyinwa Obi
WITH the smuggling activities in the Idiroko border reducing to the barest minimum as a result of dedication, consistency and lack of compromise by the Customs men on the road, the Area Comptroller Ogun State command, Prince Ade Dosunmu in this interview with Customs Watch discussed a number of industry issues especially the compliance level of importers in ECOWAS Trade Liberalization Scheme (ETLS) which he admitted has been encouraging.
He said the objective of the ECOWAS Trade Liberalisation Scheme is to establish a Customs Union among all member states aimed at the total elimination of Customs duties and taxes of equivalent effect, removal of non-tariff barriers and the establishment of a Common Customs External Tariff to protect goods produced in Member States.
SIR, it seems the smuggling activities in your Command have drastically reduced. Can we get an insight into the smuggling activities, how far you have tackled it head on, and what really motivated you in going this far?
Thank you very much, I must say that when I came in here, following the directive from the Comptroller General of Customs, and having imbibed the six point agenda, we actually went to the field. I led my men, motivating them and ensuring that they are encouraged to do the needful and a lot of seizures have been recorded in that regard.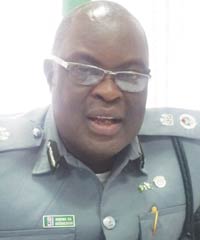 Of course, because of our consistency, the smugglers have seen that there's no room for such in our Command. Equally, because we have demonstrated that we are not going to compromise with their filthy base.
Spectacular seizures
We have made spectacular seizures in the North and for those that are daring, they have met their Waterloo. I'm sounding this note of warning again that any time they choose to use Ogun as their base they will meet their Waterloo.
What is your revenue profile like?
So far, last year and this year comparatively, we have N2 billion. Between January and June this year, we recorded N2, 211, 446, 339.18 billion, that is N2.21 billion was collected as revenue as against the N1.6 billion recorded same time last year.
This is an appreciable increase of over 60 per cent. And this year in our operation, if you compare it with the one before my coming in and that of last year, between January and June this 2013, we recorded 645 seizures with a Duty Paid Value (DPV) of N618 million as against 536 seizures with DPV of N297 million same period.
The seizures include motorcycles, jeeps, SUVs, rice, frozen poultry products, used tyres, apparels, second-hand clothing, petroleum products, Indian hemp and various other seizures.
As we speak, this morning, we have made a seizure of more than 5, 000 cartons of frozen products loaded in trailers and about three trucks and three buses. They are waiting condemnation and destruction in Abeokuta axis.
I must also report here that with the welfare package put in place, our officers are highly motivated. One school has been renovated; provisions have been made for new hall; laboratory, clinic stocked with better drugs and we also have xray machine there which was not there before. There is a better working environment and better tools to work with. We thank the Headquarters for their support because this has highly motivated the officers to give their best. You must understand that the training and retraining capacity embarked by the Headquarters for officers of this Command has greatly enhanced their service delivery.
Again, we have been able to partner with the community where we work, where they see us as friends. Although, I'm not saying it has been that smooth, but we have been working on it and it has yielded good dividends.
The International community too, for the first time are partnering with us. All the agencies in Benin Republic have been partnering with us here and we too have been able to lead other security agencies in Nigeria to provide a better platform for understanding the nature and our environment.
You can see that a Secretariat was recently established here in Nigeria, where the two countries usually meet regularly to resolve issues before it degenerate to something else and this is very important in conflict resolution, we are happy about that.
Our relationship with other security agencies of government in Nigeria, I must say has yielded good dividends too. We work in collaborative manner that has brought a synergy which makes us not to see ourselves as distinctively different from others. We see ourselves as the same, and as brothers of the same father. We work together and this has brought this cooperation. The army, the police, NDLEA, NAFDAC, Health officials, the Governor and his government; even local government officials, and others, we all work as a team.
What's the compliance level of importers who bring in ETLS, since you are in-charge of it?
The compliance has been super. It's 100 per cent. Our ETLS here is based on rules of origin and the size in which we are insisting as stipulated by the service providers is what United Nations and WCO are working with. It's what we also work with here. Not just ETLS, all our importers here have been complying with rules and regulations.
I must say the compliance level is high and this is the only place you can talk about institution of international best practices, where the integrity of officers is very high. Imports are scanned and we have not had any issues or problems with anybody. We ensure that those that pass through this end are given prompt attention in terms of facilitating their trades. That is the legitimate truth. The Idiroko border axis is where the 24-hour mandate is working.
Cargo-base is actually working. If you go to our factories today, you will find out that our officers that are there are given the best service expected of a professional Customs officer. That is why you hardly notice them being around, but three quarters of our revenue is derived from ETLS. And our free trade zone, when we came in here, was at zero level of activities. But today, the free trade zone alone generates revenue alone in terms of the service charge we impose on them.
When I came in here, the place was at zero per cent level of activities. But today, we have been able to employ over 1, 800 staff and with the GDP which runs into billions of naira. Customs as per the dictates of its acts of establishment always charges for service, we only collect our service charge. We always ensure that they follow regulations. The compliance level there too is quite high. I must say that we have been able to establish an enabling environment for business to thrive. Our officers are happy and I'm happy too.