By Tony Edike
ENUGU — An Enugu-based female hairdresser, Ifeoma Obike, who allegedly combined her business with the illicit trade of baby factory, has been arrested by operatives of Anti Human Trafficking Unit of the Criminal Investigation Department of Enugu State Police Command.
Ifeoma, who claimed to be a native of Oguta in Imo State and a popular hairstylist in New Haven, Enugu, according to the police, allegedly tried to augment her earnings from her legitimate business by engaging in the "baby for sale" trade which had been thriving in many parts of the South-East for some time.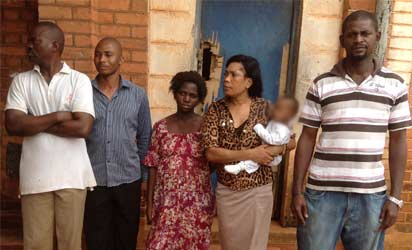 Ifeoma who claimed to have five children out of wedlock, however, denied being involved in child trafficking but she was found with a baby, which she claimed belonged to her sister in Lagos.
The police said she would be taken to Lagos to confirm her claim though the operatives doubted her because the baby was too tender to be cared for by any person other than her mother.
The state Police Public Relations Officer, PPRO, Mr. Ebere Amaraizu, who announced the arrest of Ifeoma and three members of the syndicate, weekend, said the long arm of the law caught up with them last Thursday when men of the Anti Human Trafficking squad, acting on a tip off, swooped on them.
He said: "On September 5, 2013, the long arm of the law visited Ifeoma as the operatives of the Anti Human Trafficking Unit of the state Criminal and Investigation Department of the Enugu State police command, acting on information received that Ifeoma combines the newly discovered lucrative business of baby factory with the saloon business, arrested her and someone whom she identified as a would-be husband.
"The alleged fiancé, a patent medicine dealer and self-acclaimed doctor and the pregnant girl, who was on the verge of delivery, Ujunwa, were apprehended and are now being interrogated."
He said Ifeoma had taken Ujunwa into custody to enable her deliver her baby from an unwanted pregnancy with the intention of taking the baby, adding that they had agreed that Ujunwa would upon delivery be settled with N100,000 to forfeit her baby.
My ordeal, by Ujunwa
Ujunwa, who narrated her ordeal to the police, said she was impregnated by someone and had wanted to abort the pregnancy.
Confused about what to do with the pregnancy, Ujunwa who hails from Ituku in Awgu Local Government Area of the state, went to a patent medicine dealer identified as Obinna of Obofia Awkunanaw but resides in New Haven Extension, Enugu, to abort it but was advised to keep the baby.
Before then, she had made attempts to get rid of the baby to no avail.
"Obinna, however, linked Ujunwa with Ifeoma who would take care of her pregnancy and later be given N100,000 after delivery to forfeit the baby which Ifeoma will at the appropriate time, sell to couples desirous of baby," the police spokesman said.
According to him, Ujunwa further disclosed that while she was with Ifeoma, "the woman insisted that if her financial condition dwindles, that the initial agreed amount of N100,000 could be reduced to an amount that she can afford.
"One of the accomplices, a native of Ezeagu, who was also apprehended, denied being part of the syndicate. But he revealed that there was a certain time a pregnant girl was brought to him to be delivered of a baby, which he carried out and later the baby was released to someone identified as a sister to the girl and that he also issued a receipt for the hospital expenses incurred."
On his part, Obike from Isiukwuato, Abia State, whom Ifeoma described as her fiancé, revealed that he was yet to marry Ifeoma even though they have five children, whose whereabouts could not be explained.
Obike, who claimed to be a businessman dealing on wears, however, declined to give further details about the baby found in possession of his alleged fiancée.
Amaraizu said that full investigations into the matter had already commenced with a view to ascertaining further details of the illicit activities of the syndicate.