By NDAHI MARAMA
At least 50 suspected Boko Haram sect members were killed in an encounter with Military Troops of 5 Brigade of 7 Division, Nigerian Army, Monguno when the terrorists laid ambush in two communities of Gajiram, the Headquarters of Nganzai and Bullabulin Ngaura of Konduga Local Government Areas of Borno state.
This was disclosed by the Spokesman of the 7Division, Leuitenant Colonel Sagir Musa in an interview with newsmen in Maiduguri yesterday.
Nganzai is about 73 kilometres, while Bullabulin Ngawra is 45 kilometres away from Maiduguri, the state capital. Both councils are linked and have borders with the terrorist's camps of Marte and Sambiza forests acclaimed to have been destroyed by JTF during the peak of the emergency rule and the military onslaught of Boko Haram terrorists in the state since June this year.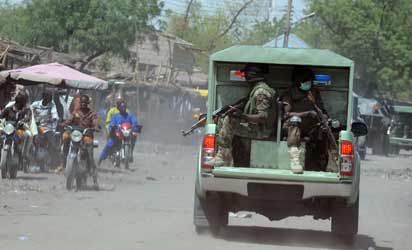 It would be recalled that there was a separate coordinated attacks by suspected Boko Haram terrorists in Gajiram and Bullabulin Ngaura Communities of Borno, where about 20 people were killed including an aide to Governor Kashim Shettima,  Alhaji Mohammed Sani (alias A. Banje). Details emerged that the aide to Governor Shettima was amongst the nine people killed  along Maiduguri- Damboa -Biu road while on his way to Biu Local Government Area before he fell into the hands of the terrorists who mounted road blocks few metres away from Bullabulin Ngaura village. Sagir said "Our troops have effectively repelled the Boko Haram coordinated attacks on Gajiram, Bullabulin Ngaura villages in Nganzai and Konduga council areas.
"Troops pursued terrorist to their camps and destroy the camps with support of air bombardment, 50 terrorists lost their lives in the encounter with the troops". Sagir stated.
Subsequently, he maintained that, the villages have been rescued from the stronghold of the Boko Haram, adding that, at the moment,  the Brigade troops are pursuing and blocking the remnants of the fleeing terrorists from their exit roots.
Meanwhile, The Chief of Army Staff Lt. General Azubuike Ihejerika has commended the Youth Volunteers popularly known or addressed as 'Civilian JTF' in Borno for their support to the Nigerian Army in fighting the insurgency.
Speaking to the press at the end of his one day working visit to Maiduguri on yesterday, the chief of Army Staff said, "I wish to commend the youth volunteers for their support in fighting the insurgency. I also wish to commend the Shehu of Borno and the entire people for their support and assistance ".
Lt. General Ehejerika said he was in Maiduguri to see how well the newly established 7th Division of Nigerian Army is settling down.
"I am impressed with the logistics and every thing and I am assuring that Army Headquarters and the Defence Headquarters is appreciative of their work as it had been with the JTF", he said.
The chief of Army Staff also said, " I am very impressed with the conduct of the troops because they had adhered to the rules of engagement, these soldiers have really done us proud".