JOHANNESBURG  (AFP) – Nelson Mandela's ex-wife Winnie on Thursday released a book about her detention by the apartheid regime, a time she described as the darkest part of her life.
The book "491 Days: Prisoner number 1323/69" is based on a journal Winnie Madikizela-Mandela kept in prison during her detention.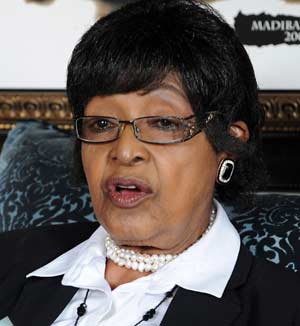 "In my mind I felt that we needed to tell the story to the future generations, so that what happened there never happens again," she said at the launch in Johannesburg.
In the book Winnie shares some of her journal entries as well as letters between her husband and herself.
"Solitary confinement is worst than hard labour," she said.
"When you stretch your hands you touch the walls, you are reduced to a nobody."
The book details her harrowing isolated confinement for over a year after security police detained her at her Soweto home on May 12, 1969.
An anti-apartheid activist in her own right, she was held at Pretoria Central Prison with a group of other fighters under the notorious Terrorism Act.
Her then-husband Nelson Mandela had already been in prison almost seven years by then.
A lawyer's widow had the journal, and returned it to Madikizela-Mandela 41 years after her release on September 14, 1970.
She said reading the journal brought back painful memories about the suffering she, her family and her two children Zindzi and Zenani — then little girls — experienced.
"I could only read one paragraph and put it away," she said.
"Words cannot describe the feelings and the pain, especially now that their father is in hospital," she said.
Nelson Mandela, 95, marked two months in hospital on Thursday, where he is undergoing treatment for a serious lung infection.
The pair divorced in 1996, two years after he became South Africa's first black president.
Winnie Mandela is still revered as mother of the nation, despite her implication in the death of activists on the eve of apartheid's end and a corruption conviction a decade later.
Subscribe for latest Videos