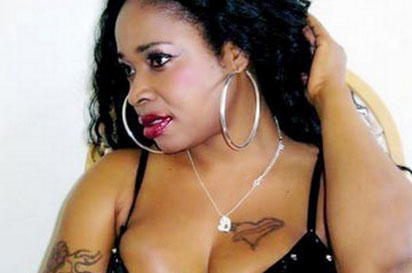 *Afro Candy
By OPEOLUWANI OGUNJIMI
For those of you who have been following her story, you would know that porn actress, Afro Candy has been in the news for seemingly wrong reasons lately.
The actress has again spat venom on two Nollywood actresses, Ini Edo and Mercy J.Okojie, saying both actresses are no match for her.
According to her, Mercy and Ini are her  juniors when it comes to the movie business. As a matter of fact, she said she used to drive Ini in her car to movie locations, while Mercy was still running around looking for waka pass roles.
Her outburst is actually on haters who are not too happy that the actress is back to the Nigeria screen. Read her:
"For those of you that just started watching Nollywood movies, I have been around, even though I left Nigeria when I was just about to hit the actual stardom and transformed to AfroCandy.
When I was in Nollywood, Ini Edo had not even a bicycle and I drove her to the locations twice I worked with her, Mercy Johnson was still running around looking for waka pass to play.
Now that I came back in full force to take back my position, most of you are mad. Why are you mad ? Don't hate the player, rather hate the game."