By Patrick Morodion, Abidjan
Chief coach of Nigeria's senior national male basketball team, Ayo Bakare has sounded it clear to his squad at the 2013 Afrobasket holding in Abidjan, Cote d'Ivoire that the country was no longer willing to play second fiddle to any team in Africa.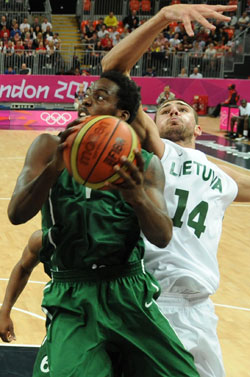 He gave this charge to the players captained by both Olumide Oyedeji and Ike Diogu at the Westpoint hotel in Abuja on the team's arrival from the United States shortly before they departed Abuja for Abidjan Sunday.
Bakare, who qualified the team for their first ever Olympics in 2012, charged the players to put in their best as they begin the campaign for the title they have never won in the competition's history against Mali Wednesday.
The coach assured the Nigeria Basketball Federation, NBBF, president, Tijjani Umar that the present bunch of players are the best the country has ever assembled and are in a good position to come out tops in the competition.
"I want to say that we have played second fiddle for too and cannot afford to continue that way, so we must put in our best to ensure we achieve success. This is the best set of players we have ever assembled and I believe we can win if we put in our best," he said.