By Henry Umoru
ABUJA—NATIONAL Chairman of Peoples Democratic Party, PDP, Alhaji Bamanga Tukur said, yesterday, that the party was waiting for the five northern governors, who are presently having consultations with former leaders and stakeholders in Nigeria, to determine when reconciliation with them can take place.
Tukur spoke to journalists in Abuja, yesterday, after his return from lesser hajj at the Wadata Plaza National Secretariat of the party.
He said the governors were free to carry on with their consultations, stressing that at the end of the day, they will meet with the leadership of the party and everyone would then know who was in charge.
He said: "They are still consulting. When they finish the consultation, then we will know when to reconcile with them.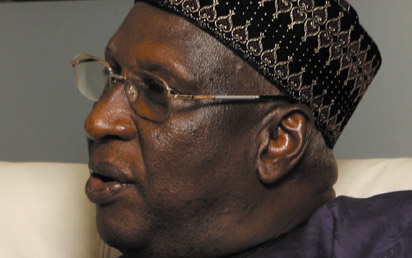 "To this effect, it is advisable that party faithful, who are aggrieved, should use the party's internal resolution platform, which is the party's Reconciliation Committee or the leadership of the party.
Dares INEC on Anambra PDP
Also yesterday, Alhaji Tukur dared the Independent National Electoral Commission, INEC, on the lingering Chairmanship of Anambra State chapter of the party, saying that the electoral body cannot recognise anybody as presented by the party, but could only supervise elections by law.
Tukur said: "First, let me educate those who may not understand. The role of INEC is to supervise and not to recognise anybody. It is not the purview or the responsibility of INEC to recognise; it is the party that recognises, theirs is to witness election.
"They cannot accept an election if they did not also witness it. This matter is being resolved, so no problem.
"I am happy to tell you that as we are talking now, preparation for ward congress is going on in Anambra.
"Please pray for us. This time around, Anambra will be cool and perfect by the grace of God."
The 5 consult
It will be recalled that Governor Rabiu Kwankwaso of Kano State; Chairman of the Northern States Governors' Forum, NSGF, and Governor of Niger State, Babangida Aliyu; Governor Murtala Nyako of Adamawa State; Governor Sule Lamido of Jigawa State and Governor Aliyu Wamakko of Sokoto State, all members of PDP, have met with former President Olusegun Obasanjo on the crisis in the party.
They have also had consultations with former Military President, Ibrahim Babangida; former Head of State, General Abdulsalami Abubakar (rtd.); former President Shehu Shagari, and ex-Vice President Alex Ekwueme, among others.
"PDP needs no merger"
Also, yesterday, the PDP National Chairman boasted that as a party, it does not require to merge with any political party in the country for it to win elections in Nigeria.
He said that he was leading a formidable political organisation that could not be intimidated by the antics of the opposition.
While commending the INEC for the registration of All Progressives Congress, APC, Tukur promised to take PDP to a greater height by ensuring that it recaptures most states it lost in the past by 2015.
Tukur said: "PDP, as a united and formidable political organisation under a big and unshakable umbrella, does not require a merger or coalition with any political organisation to face any other political party in the country.
"Or to implement her genuine economic programmes aimed at alleviating the sufferings of Nigerian masses under the transformation agenda of President Goodluck Jonathan.
"As the National Chairman of PDP, my commitment to the ideals of our founding fathers is total and unwavering."