It happened in 1998. A black man was the main artist in the opening ceremony of the World Cup. He dazzled all. The world stood to celebrate him. He was the pride of the black race and perhaps an icon to the rest of the world.
Interestingly, he was  African. Nothing like that had happened before then. It was historic. He wrote and performed the official anthem of the World Cup with Axelle Red. Folk Roots Magazine once described him as the African Artist of the century and The New York Times described the voice of the 2005 American Grammy Award winner as an "arresting tenor, a supple weapon deployed with prophetic authority."
I bought the CD, sang the songs at match venues and walked taller than my height in celebration of the African legend. I was not alone. Others idolized him.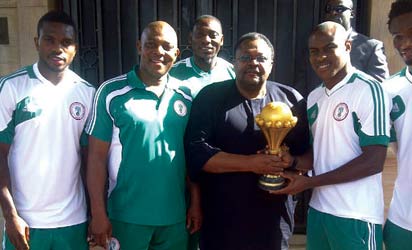 Shakespeare recognised that music was the food of love and wanted it played on excessively. Music adds flavour and fire to sports. And that's why top musicians perform in the opening and closing ceremonies of world events like World Cup, the Olympic Games, the Super Bowl etc.
Music made a lot of difference at the France '98 World Cup. The atmosphere in the stadiums was always electric. Fans sang before, during and after games. It was a true carnival.
Behold, I couldn't control my emotions when I saw the music symbol of France'98 World Cup here in Lagos. I didn't believe it when they announced his name. I had followed his music long before France '98 World Cup. I knew how popular he was in Europe, South America, Africa, Canada and other parts of the world. His music jams people up in France. A visit to most night clubs there could reveal more about him.   Who brought this man to Nigeria?
Only an international brand could have done so, a brand that entertains and renders services that satisfy people, a brand that endears itself to the people and puts them on such a plane that ecstasy becomes the way of life, a seeming mid- summer dream of pink champagne and ice, thawing you as you bubble to keep pace with the high-pitched melody of this musician. I stood to assure myself it was the same man of France '98 World Cup that was here. Who brought him here?
I looked at the high table. Issa Hayatou, the CAF President was there. Sepp Blater, the FIFA President was there. Chief Mike Adenuga, the Globacom Chairman was there. And on the stage was Youssou N'dour to play. I said, God, what a great night. It was CAF's 2009 Awards Night, sponsored by Globacom. Glo had brought Youssou N'dour of Senegal to Nigeria. What a great show of entertainment, a great investment in football and a classy service to telecommunications. I could not hold myself. I started dancing in my corner. It was an Awards night but Youssou N'dour made it more than that to me. I wished he played all night and the Awards given fewer minutes. I expressed myself in my column the following week. It felt great and special when the master of prose, Mike Awoyinwa, reacted in a text message and also informed me that he actually interviewed N'dour in Lagos and that I should look out for the interview. The interview was brilliant. Awoyinka knew N'dour's pedigree and appreciated the height Glo had taken the awards by inviting the legend to perform on the night. It is such class that Globacom has tried to bring to bear in sports in Nigeria through sponsorships of events and projects.  As it celebrates its 10th anniversary, it may be a worthwhile venture to appraise some of its investments in Nigerian sports. As at last year, the company had spent over N9 billion in sports. No other company has that record. With its renewed sponsorship of the league, Globacom has now invested more than N10 billion in our sports. N10 billion in 10 years is a pleasant story to to tell. And glo is still counting. Let's begin this way.
National Teams: In continuation of its sponsorship of Nigerian National teams, Globacom in 2011 signed a sponsorship agreement with the Nigeria Football Federation worth N2 Billion Naira. This confers on the company the status of official telecommunications partner of the Nigeria Football Federation and major sponsor of the Nigerian national teams. Glo has been in this capacity for over seven years now. Ademola Olajire, the spokesman of NFF, just reminded me that Chief Mik Adenuga had been sponsoring NFF even before Glo was born. Vixen, one of his companies fuelled NFA.
Glo Premier League: Globacom also committed the sum of N1.9 billion in May this year to sponsor the Nigerian Premier League for the next three years. The company had consistently sponsored the Nigerian League from 2003 to 2010 seasons before returning in 2013. Glo also sponsors the Ghanaian Premier League.
Glo-Caf Awards: Globacom is also the sponsor of the annual Glo-Caf Awards, which celebrates the best of African football. The partnership between Globacom and CAF is now in its 7th year. The company says that one of its core corporate social responsibilities is to stimulate socio-economic development of the youths in all the markets where it operates through football and sports sponsorships. The company's involvement in the sponsorship of the awards dates back to 2005 when the contract was signed in Ritz Hotel, Paris.   Glo promised then to transform the ceremonies and it has done so.
Glo-Man U Partnership: In 2010, Globacom also signed five seasons relationship with top Premier League club, Manchester United, as a result of which the two brands began a partnership on football development projects. One of the reasons why Globacom partnered with a world class football club like Manchester United is to leverage on the club's achievements to develop the game of football in Nigeria and in Africa.
Glo Soccer Academy: As part of Glo contributions towards the development of the game, the Glo Soccer Academy, a West African Soccer TV Reality show was recently organized to discover and train football potentials in West Africa.   16 outstanding players emerged and were rewarded with mouth-watering prizes including N5million for the Most Valuable Player and N1m each for the remaining 15 finalists. They also got G-BAM scholarships worth 750,000 each. In addition, they were rewarded with a training trip to Manchester United Schools in Carrington, U.K.
Glo Golf Tour: Globacom has also extended its sports development programme to golf with the sponsorship of the Glo Golf Tour West Africa. With total prize money of over N62m, the Glo Golf Tour offers one of the biggest pro-am purses for golf in Africa.
Supporters Clubs: To enhance the performance of National teams in West Africa, Globacom took over as the sponsor of Supporters' Clubs of both Nigeria and Ghana National teams, thus empowering them as they continue to cheer the teams.
Lagos Marathon:   Globacom entered a sponsorship agreement with the AFN and sponsored the Lagos half marathon in 2009 and in 2010. The marathon drew the core of elite marathoners from Ethiopia, Kenya and other parts of the World.   As cream on the cake, world legend, Gabriel Haile-Selasi made a guest appearance in the two marathons. Apart from the main marathon, there was the staff marathon, corporate fun run for company executives and media mock marathon for journalists.
Nations Cup: Glo inspired Eagles at the last Nations Cup. And when Nigeria won the cup after 19 years, Chief Mike Adenuga Jr rewarded them handsomely. Coach Stephen Keshi received two cars, $200,000 and each member of the team got $10,000. What a sports promoter, philanthropist, sponsor and what have you. Glo has done well for sports in the ten years of its existence. Glo is also doing same in Ghana. May it continue to soar so that it could do more for sports and for mankind. Happy 10th Anniversary.