By  EGUFE YAFUGBORHI
PORT HARCOURT—HON. Chidi Lloyd, Majority Leader of the Rivers State House of Assembly, was produced, Wednesday, before a Rivers State High Court sitting in Port Harcourt, eight days after police arrested him over alleged criminal role in the July 9 fracas in the state Assembly.
Lloyd, brought to court by heavily armed Policemen at  11am, limped on one leg and had to be aided by two persons to ascend the stairs to the second floor of the court building, where Justice L. Nyorde, the trial judge has his court room.
The reading of the charge to the accused for his plea was halted, as defence counsel, Mr. Beluolisa Nwofor, SAN, argued that Mr. Donald Denwigwe, SAN, who led the prosecution, was incompetent to stand for the prosecution as a civilian lawyer and without the fiat of the state Attorney General.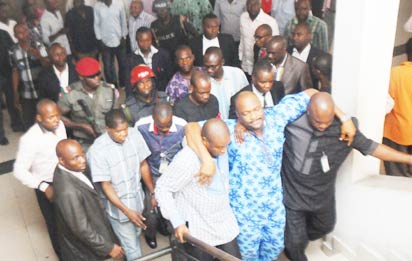 Nwofor argued that the law only allows Denwigwe to prosecute for the police, if he obtained a fiat of the Attorney General of the state for a criminal matter concerning an alleged offence against the laws of Rivers State.
In his reply, Denwigwe countered that the Police Act allows anybody to prosecute for the police, but Beluolisa insisted that relevant provisions of the 1999 Constitution overrides the Police Act.
While defence counsel and Denwigwe were at each other's throat over the propriety of a private lawyer prosecuting criminal case without the permission of the state A-G, Rivers State Attorney General, Mr Worgu Boms, who was also in court, intervened, asking the court to grant him leave to take over the prosecution of the case in accordance with Section 211 of the 1999 Constitution, as amended.
Denwigwe, who objected, noted that though the law allows the Attorney General to take over the case, such powers cannot be exercised when the charge had not been read to the accused and his plea taken.
At that point, Justice Nyordee advised parties to suspend their arguments, pending when the charge was read to the accused and his plea taken.
Responding, Denwigwe contended that the charge and plea cannot be taken until the court rules on the earlier argument of defence and prosecuting counsel and whether the Attorney General can take over the case without the formal arraignment of the accused and his plea taken.
Judge Nyordee, however, adjourned till August 6, for the ruling.
Following the development, Lloyd was returned to police custody, to the anger of his supporters and political associates, who thronged the court very early on the day, hoping that he would be granted bail, yesterday.
Also at the court were some members of the state Assembly and friends.
Subscribe for latest Videos