By Ben Efe
Former Nigeria Boxing Federation boss, Frank Okonta has blamed the dwindling sports fortune of Nigerian athletes on successive political leadership in the country's democratic era.
He argued that under military rule, there was some level of development and achievement, adding that lack of planing and funding by those in authority in present day politics,were responsible for the gradual slide into stagnation.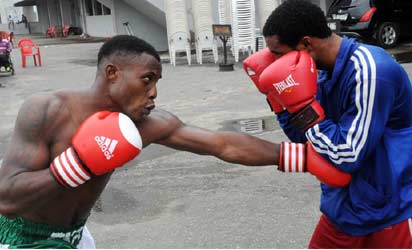 "During the military era, money meant for sports trickled down to the end users. But it is not so now. Our politicians are only interested in grabbing whatever was available.
"Just imagine the last World Championships in Moscow, Russia we placed all our hopes on one athlete.
"But this was not the case in the past when we have about four athletes who are up to world standards.
"It is the same thing in boxing. We can not even win a single medal at the All Africa Games where our boxers once dominated. If things were working during the military days, why are we now searching for sports heroes? Okonta queried.
He submitted that Sports facilities have been left to rot away, whereas on a yearly basis funds are budgeted for the maintenance of the these facilities.
"Look at the boxing complex that was started by late Brai Ayonote. It is unimaginable that it has been left to rot away, if it had been completed, it is capable of generating funds for the boxing federation. "There is provision for a standard gym and a hostel, which can be used for camping by Nigerian teams."
He submitted that the government should make sports attractive so that the private sector can participate as the government is incapable of providing adequate funding for training and development of athletes.