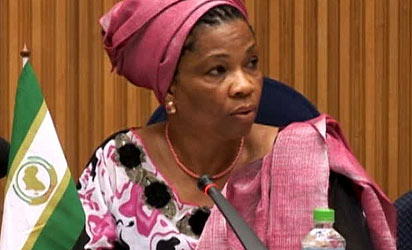 Hon. Nkoyo
BY JOSEPHINE IGBINOVIA
Former Nigerian Ambassador to Ethiopia and now a member of the House of Representatives where she represents Calabar/ Odukpani Federal Constituency in the National Assembly, Hon. Nkoyo Toyo has been in the forefront of civil society movement.  The founder of Gender and Development Action-GADA, Nkoyo is a veteran in gender advocacy and issues pertaining to governance. In this interview, she speaks on the attainment of the much desired 35% affirmative action, reveals why the cost of governance is expensive in Nigeria and also urges women to take advantage of laws provided for their protection. Enjoy!
How far has the Cross River State government gone with the abolishment of harmful widowhood practices?
We don't have too many of these things in our state. Maybe I shouldn't talk about Cross River as a whole, but about my constituency, Calabar. We have a whole lot of civilization and the impact on the rest of the state is profound. That's why you always notice that Calabar is peaceful, clean and organized. It's a reflection of the history of the people and their ability to acquire and imbibe a whole lot. That's not to say we don't have issues, but I'm saying that we had long passed laws on widowhood, violation of the rights of the girl child and more. Now, if you impregnate a girl in Calabar, you can't run away.
Are the women really using these laws?
You know, as it is in many cases, only a few people take these laws to court for justice. Sadly, a law is never a law until it is enforced in court. I once witnessed an incident where the wife of the governor expressed concern over widowhood practices and cultural deprivations according to the lamentation of a group of women. I remember she told them to stop complaining and take advantage of the laws available for their protection. Enlightenment is however the solution because I've realized many of us are educated but not enlightened.
How feasible is the 35 percent affirmative action in this new constitution?
We're going to try and get that through subsidiary legislation; not in the constitution. This is because we need electoral reforms for it to ever happen. We have to go away from elections that are based on who has majority to the proportional representation system which makes use of party list. In a party list, a party comes up with the list of all its candidates and then goes to election as ACN, PDP, or whatever. If PDP gets 80% of the vote and subsequently gets 80% of the positions available, we can mandate that party to ensure that 35% of the list it is sending for positions must comprise women.
So, when you're voting, you're not voting the individual but the party, which will in turn ensure women comprise 35% of the list created for position. In every country where an increase in governance has happened for women, the party list was used. Now, it is left for voters to look at the party list and decide to vote for a party based on their likeness for whoever catches their fancy on the party list. So, the seats won by each party will now be proportionally distributed to candidates, but ensuring by law that 35% of the distribution goes to women.
In representing your people, what are those bills you've sponsored?
I've actually only done electoral reforms issues and that hasn't got anything to do with my people but with my sectorial interest which is gender and social development. I'm however working on something that has to do with social work as an act. Frankly speaking, I think we have a lot of laws already; I actually struggle every day to convince myself of the need to create more laws! Do you know that for each law we create, we have to pay for enforcement?
With each law, there comes a secretariat and that's why you see the proliferation of agencies and departments of government that are making the cost of governance high in this country! Nigeria is actually one of the most expensive countries in the world to run! Government and civil servants take almost 70 percent of the entire budget while we spend only about 28 percent on development and capital! So, each law we create is expenditure! Remember when we changed the INEC chair to Professor Jega? Remember how many billions we gave to him? So, laws are not cheap!
Anybody who says he has created so many laws and has therefore done well should have a rethink because each law requires appropriation. That's why the federal government is considering cutting down the number because it has realized too many people are duplicating too many laws, setting up agencies, demanding fund for management and fixing up their brothers and sisters in those agencies! For me, I believe what we need is to amend the laws we have rather than create new ones.
So, what are your aspirations?
My ambition is to return to the house next term because the first term is usually a time for gathering experience while a second term is when you're actually able to make your contributions and impact felt. By then, one would have understood how the system works and also be able to do more work.
What are you doing to impact lives in your constituency at the grassroots level?
I'm taking a lot of projects home; healthcare, building blocks of schools and getting people employed through farming. I have a big farming project which is retuning people in agriculture. I've also built an enterprise development centre which prepares people to go into business. The challenge with that however is that you don't train people without giving them capital. Finding capital for that is therefore a challenge. I'm also giving scholarships.
What are those issues you want government to look into in your area?
What I really wish government could look into is how to harness the huge tourist potential of Cross River State.