By IKENNA ASOMBA
A 52- year -old retired Sergeant with 242 Recce Battalion, Ibereko Barracks, Badagry, Mathew Lulu, is still trying to come to terms with the incident that happened on July 15th, 2013, when his wife and two children went missing from a church premises at Aradagun area of Badagry- Lagos.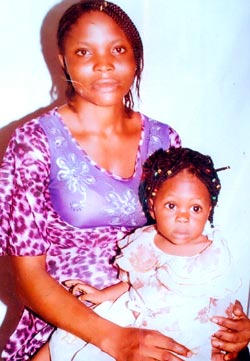 Crime Alert gathered that the 23- year-old mother of two identified as Christiana Lulu, left their  Baba Arunah Street, Bush Estate, Aradagun-Badagry on the said day, in the company of Mathew, her husband and their two children to Christ Apostolic Church in Aradagun area of Badagry for prayers for their 3- month- old child who took ill. After a prayer session, they were reportedly asked to go for a bath with some holy water.
Mathew Lulu narrates his ordeal: "In the afternoon of Monday, July 15, 2013, I started looking for my wife whom I took to a Christ Apostolic Church in Aradagun, Bayo Bus/stop, Badagry, so that the Pastor can pray for our 3- month -old baby who was ill.
It all happened barely two months when my father in-law came to pick his daughter and our two kids because she is partially insane. During this period, she usually strays out of the father's house, but on all occasions, she was captured by family members and neighbours.
"On Sunday, July 14, 2013, exactly two months and two weeks that she and the children stayed with her father, the father brought her and the children back to me.  The father told me that he had to bring them back because he will be on a two-day duty at the Power Holding Company of Nigeria (PHCN) office in Badagry Round-About, where he works as a security man. So that day, our baby cried all through the night because he was ill. The following morning, I gave my wife money to go and get drugs for the baby, but she insisted she was going to take him to the church.
"I had no other option but to follow them. So, myself, my wife and the two kids headed for the church. After prayers by the Pastor, we were given buckets of holy water to go and take our bath in the bathroom. I first bathed our first daughter, Promise, and after clothing her, I asked her to go and meet her mother inside the church, as I wanted to take my bath with the blessed water, before she would bath Akinyala, who is sick and then take her own bath.
After I finished taking my bath, I went straight into the church to find out that my wife and two kids were no where to be found. Immediately, I ran outside to look for them, but I couldn't see them. When I asked the Carpenter who operates a workshop opposite the church, he told me that he saw a woman and her kids walk pass him not quite long.   All my efforts to trace them that very day was fruitless," lamented Lulu.
Lulu said that the Badagry Police Division has been informed of the incident and search is still ongoing. This is even as he pleaded with good Nigerian citizens to report to the nearest Police Station, if the wife and kids are found.