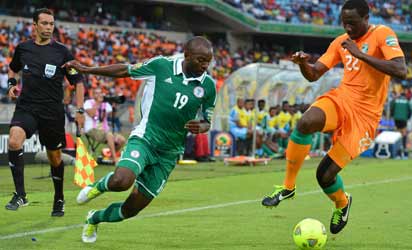 *As Eagles arrive Abuja today
Super Eagles forward, Sunday Mba has said there is no cause for alarm over the star-studded squad South Africa head coach, Gordon Igesund named for the Nigerians.
Igesund on Tuesday named a 28-man squad to confront the Eagles in the Nelson Mandela Challenge on August 14 at the Moses Mabhida Stadium in Durban, South Africa.
Mba said Nigerians have no reason to panic as the African kings will march the South African counterparts squarely as well as come out of the encounter unscathed.
"Of course, there is nothing to worry over the names the South Africans will parade against us during the Nelson Mandela Challenge, I'm cool and at home with the names.
"It's a friendly game but the build-up to the game underscores the fact that there is nothing like friendly in football any longer, every game is as important as the World Cup final.
"We know it won't be easy in South Africa more so against the Bafana Bafana because everybody wants to win against Nigeria and go down in history as the side that defeated the reigning African champions.
"I see the encounter as a game we must win, our pride is already at stake so I believe we'll prepare very well and on matchday come to the party to prove further to doubters that our victory at 2013 Afcon was not a fluke rather well deserved," said the Afcon hero to supersport.com.
The Super Eagles are expected to hit camp on August 11 in Abuja preparatory for the high-profile international friendly which doubles as build-up for the side 2014 Fifa World Cup qualifying last group match against the Flames of Malawi in Nigeria on September 7.