BY MONSURU   OLOWOOPEJO
LAGOS — THE Lagos State government, yesterday, arrested three butchers selling tuberculosis infected beef, even as it clamped down on three illegal slaughter slabs in the state.
The butchers were arrested at Alapere-Ketu axis of state by a team of the Lagos State Environmental and Special Offences task force, led by the chairman, Mr. Bayo Sulaiman.
The three illegal slaughter slabs were at Ajegunle, Alapere and Ajelogo.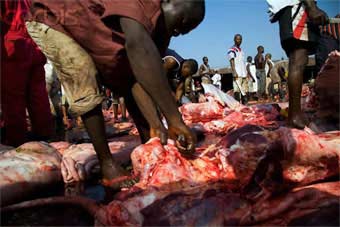 The Senior Special Assistant, SSA, to the state governor on agriculture, Dr. Nureini  Funsho, said that efforts will be intensified to clamp down on other illegal and unhygienic abattoirs to safeguard the lives of the people.
According to Funsho "government has done so much to dissuade butchers from slaughtering infected animals. And this has stopped in our over 20 legal slabs because trained veterinary doctors are available to examine animals before they are slaughtered.
"And if the animal had been slaughtered before they detected it, the state government compensates the butchers.
"Some of these butchers know that the animals are bad for consumption but they still slaughter them for sale at these illegal slabs."
Funsho also blamed the porous state of the country's borders, saying: "Most of the cows slaughtered in Lagos, where traders believe that demands for beef is very high, are brought from neighbouring land-locked West Africa countries. And due to the porous borders in the country, the traders aren't checked."
On how the beef infected with such disease are detected, he said: "We have lymph nodes that expose the inner form of the disease. Once you kill an animal and open it up, you will see that it will not have the normal animal skin colour."
The SSA, however, urged residents of the state to patronize legal slabs because the unwholesome ones are sold in the unaccredited slabs.
Speaking earlier, Sulaimon said the arrested butchers would be charged to court, adding: "It is only the court that will determine their fate.
"We will start the clamp-down on illegal abattoirs throughout the state. We have warned them and it's time for enforcement."